How To Host A Successful Webinar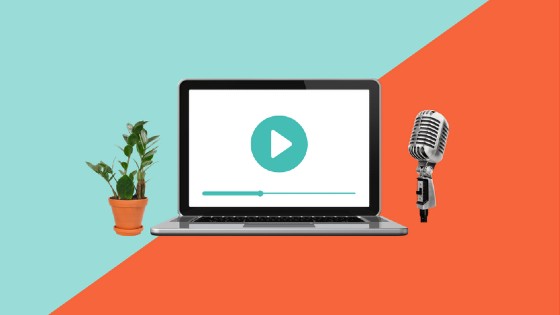 We know it can be difficult deciding where to start when planning, hosting and running a webinar.  Did you know that 73% of marketing and sales leaders say that live streams are one of the best ways to generate quality leads?
Webinars and virtual events are definitely on the up, so it's about time you started really investing some thought into how you can best use them. This article includes everything you need on how to create a webinar your audience will love…
Watch the Video
Watch our video or read the full article below.
Define Your Webinar Topic
Keep it simple. Obviously, the webinar needs to relate to your business, but you need to define what exactly it is you want to talk about and keep focus on that one idea. This helps you create a compelling theme and ensures your webinar or webcast flows more naturally.
To do this you need to think about what your audience actually wants and make sure the core theme relates directly to them. This will attract attention and maximise the number of people that sign up.
If you're not sure where to start, do some market research or send out a survey to get some feedback first hand about what your audience is interested in.
Top Tip
Looking up popular search queries around your industry could give you some great insight into topics and questions your audience are actively looking for. You can then use this data to form subjects for your webinars.
There are plenty of free and paid for tools that provide this type of insight, such as; Google Search Console | SEMrush | Buzzsumo | Arehfs
Choose The Best Format
There are lots of different angles when you're considering how to host a webinar – will a large group be attending your webinar or a smaller, more intimate group? Will there just be one of you speaking throughout or will you have a few presenters to change things up and bounce off?
You need to decide what type of webinar format will work best for your topic and your audience and go from there. Some ideas are:
Present a slide deck

Run a how-to tutorial

Roundtable discussion with other speakers

Host Q&As with your audience

Interview a thought leader on your topic
Create Engaging Content
Once you've defined your webinar topic and format you can start to create your webinar content. The best way to do this is to start with an outline that can be padded out. This simple outline can be a great starting point and should work with pretty much every type of online event:
Introduction

A bit of background about yourself and your business

A story that relates to the topic

The key teachings of the event (i.e. the information that viewers have signed up for)

Questions and answers

Call to action
Then it's time for the script. You most likely won't follow this to the letter, but it gives you a good guide on what you're supposed to be saying and keeps you on the right track throughout.
And now it's finally time to create the slides. Nice looking visuals are a great way to keep your audience engaged whilst you're talking, so include things like pictures, graphs and stats where you can.
Top Tip
Breaking away from the usual 90-degree angles and grid-like layouts can really catch your audience's attention.
Remember that these are there just as a visual aid and you'll be explaining each slide as you go through, so try to keep any text to a minimum.
Here is a nice example of one of our client's webinars that used irregular framing and unique shapes.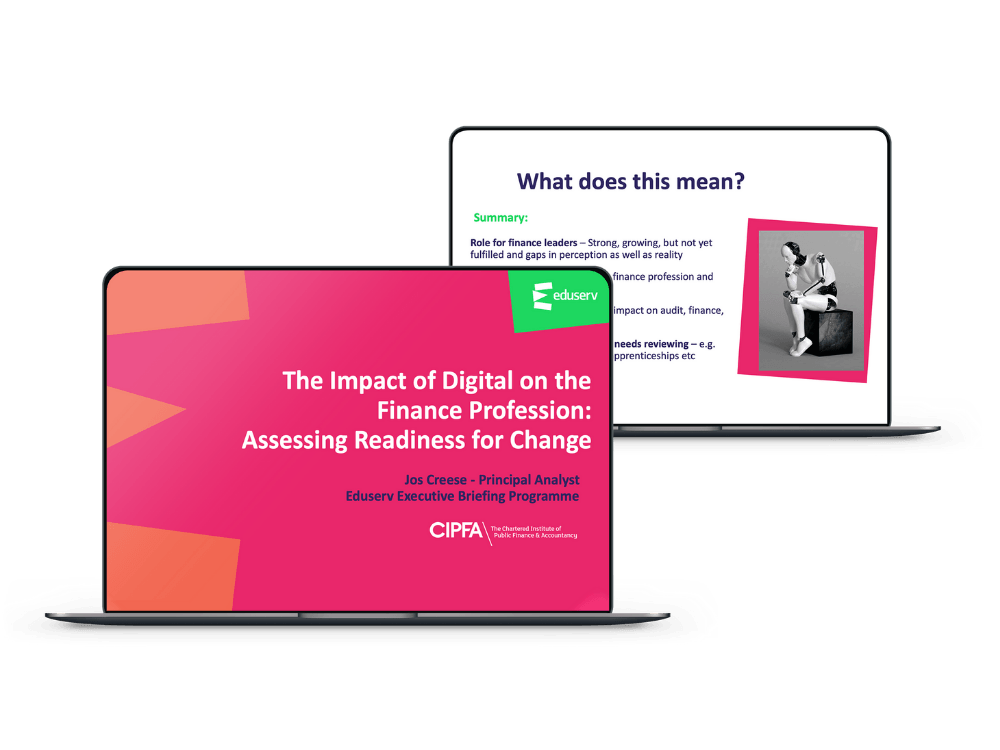 This below client example also uses attractive graphs to display key statistics that they were presenting. Displaying data in a more visually appealing way will also help make your event more memorable to attendees: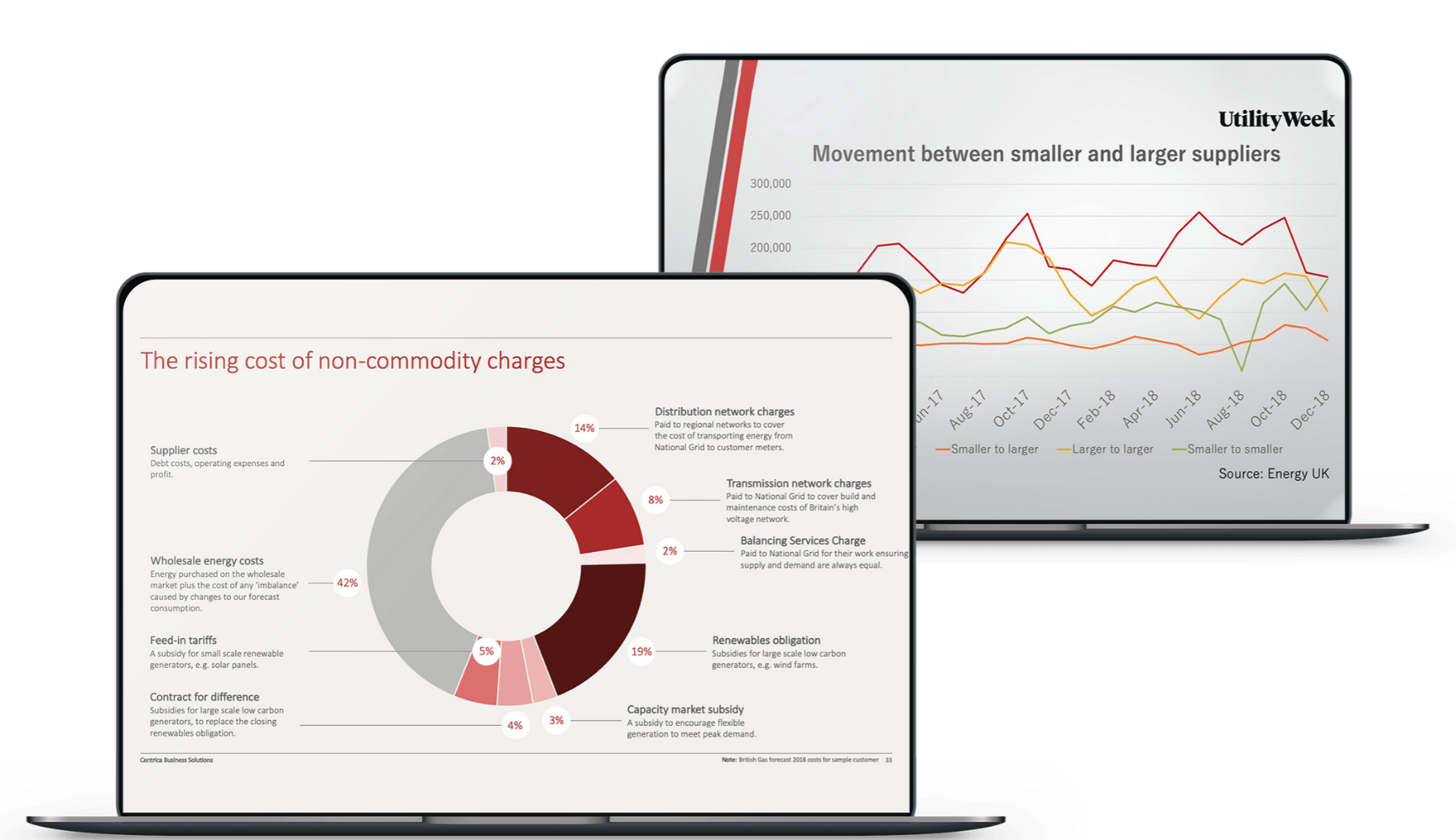 For more insight on how to design your webinar, download our webinar design guide eBook. 
Setting the Right Webinar Date and Time
When is the best day and time for a webinar?
We've actually researched over 100 of our most recent events to find out the best time to host a webinar. Our research shows that Mondays and Fridays at between 1 – 3:30pm are typically the best times to host a webinar.
See more data and find out more on the best day and time for webinars and virtual events here.
When setting your date you do also need to think about two things:
Give yourself enough time to promote the event so you can build interest and drive sign-ups

Set a date and time that's best for your audience to attend. For example, if you're B2B then during the day may work better than an evening.
Promote Your Event Effectively
We've talked about giving yourself enough time to promote your event, now let's move onto how you can promote your event…
Registration Page
You need to create a landing page that includes all the information about your event and entices people to sign-up. This is where you can point all of your other marketing activities too when promoting your webinar, such as emails, social posts and ads.
At streamGo our helpful team can give you lots of best practice tips and advice when it's time to create a registration page for your event.
Emails
Make sure you craft an email schedule to send emails both before and after your event. Sending emails in the run up will promote and remind attendees about the event, and afterwards you can send follow-up campaigns and emails to those that didn't watch the webinar live.
Top Tip
We recommend A/B testing different headlines within database segments and reviewing open rates. This will help you gauge effectiveness and you can choose the most successful headline for the rest of your campaigns.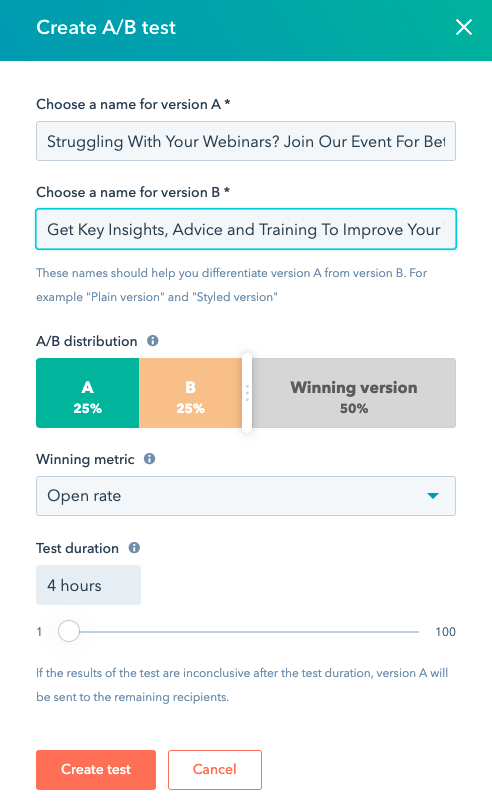 Banners & Pop-ups
Adding banners on your website and as part of your email signature can get the event in front of even more people that may not be in your email marketing list or follow you on social media. How many website visits do you get a week? That's exactly how many eyes you can get on your event if you add an attractive banner or pop-up to your homepage.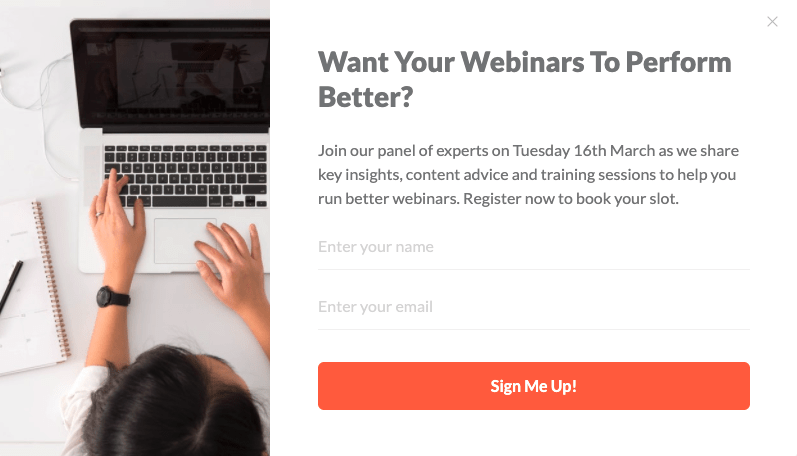 Social Media
Social media is a great place to promote your event to build excitement and boost webinar registration numbers. It can also be a great platform to use during the event by tweeting throughout or going live on Instagram, as well as afterwards for any follow up campaigns or attendee feedback.
Choose The Best Platform For You
If you've never hosted an online event before, you should really invest in a good, reliable webinar platform.  Just as important as the platform itself, is the level of support you get from your chosen webinar provider.
There are so many things that can go wrong during any online event, this makes finding the right platform very much worth it for the peace of mind alone!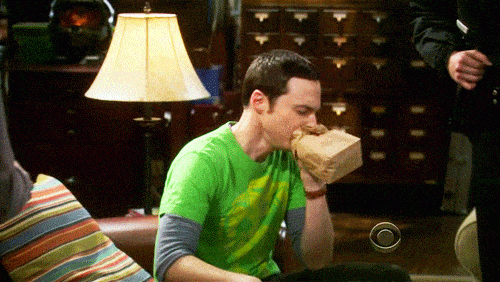 Our technical expertise paired with our resilient event platform ensures that you're in complete safe hands. If anything does go wrong, rest assured backups are available and issues can be rectified immediately.
Top Tip
Here's our checklist on what a good quality event platform should offer:
A fully managed service

Streaming to all devices without the need for software downloads presentation backups

Fully customised branding

Event subdomains so that you can host events on your own website

Event recording

Q&A management

Reporting tools

Real-time technical support
Still not really sure where to start on this one? Luckily we've created a guide on how to choose the best webinar provider.
Practice!
It's cliche, but practice really does make perfect – or near enough! Practicing your webinar or webcast allows you to iron out any logistical or technical issues before the big day. Presenters should ideally practice at least one week before the event.
A couple of days before the live online event you should then host a dry run with everyone involved in the broadcast.
This is where our trusty event producers will lead the way to coach presenters, check the audio and video set up and make sure all presentation content is in order to avoid unnecessary hiccups.
Top Tip
If you're worried about putting on a live event, consider pre-recording presentations in advance. Any mistakes can then be edited out or amended before the content is streamed. 
To sum up: prepare thoroughly, choose a quality platform provider and practice several times in the run up to your live event stream. Do these three things and you'll be able to deliver a successful event that doesn't have everyone questioning their sanity.
Get Your Audience Involved
The most important aspect of planning a webinar is to make sure your audience actually enjoys it and pays attention. Therefore it's vital to get them involved and engaged throughout.
Most webinars are between 45 and 60 minutes long, so when you think about it, it's a long time for viewers to sit back and wait their turn without it disrupting their attention.  Keep your audience happy and engaged by ensuring that they participate throughout and give them a few things to do:
Q&As
Questions and answer sessions are a must. Studies show that 92% of webinar attendees want a live Q&A included. To get the most engagement from your Q&As and ensure attendees understand the information you're giving, take questions throughout your presentation after every 4-5 slides.
This is easily done through a presenter console that offers Q&A management. We can't speak for all platforms here, but the streamGo platform provides a simple dashboard where questions can be moderated, pinned and prioritised without having to defer your attention away from the audience.
Audience Polls
Real-time audience polls are a great way to keep attendees engaged as results are revealed right there and then. The problem that some hosts have is lack of response, which is usually due to not encouraging the audience in a way that makes them want to take part.
For a poll to work you've got to sell the value of it to the audience. Let them know what they'll get from taking part. "Take the poll to see how your business compares to other attendees" works better than "I created a poll that I'd like you to answer."
Polls can even be used to dictate the structure of the event. For example, you could give the audience a choice of three options. Whichever option comes out on top is the one that you'll cover next.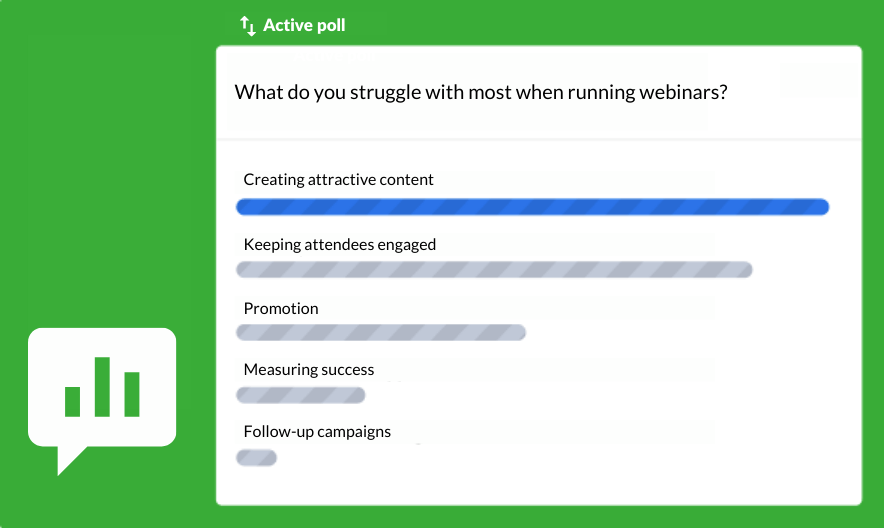 Downloadable Content
Downloadable content is a great way to make an event stream something that attendees can engage with long after it has ended. As you deliver the presentation, you can drop in eBooks, white papers or external links for access to further learning.
You can make reference to the material during the webinar and drop it right into the chat for people to access. What you don't want to do however, is overload viewers with content. Too much choice can result in them taking no action whatsoever, so stick to offering one piece of material at a time.
An online event offers a unique chance to engage in a conversation with your audience. Following these tips will help keep attendees involved and send them away feeling more connected to your brand.
Measuring Success
A good event platform should be able to provide you with valuable insights on how your event performed. After running an online event with streamGo, you'll receive a report that details lots of different metrics to help you gauge success.
We know tonnes of data can be a little intimidating, so these are the key things we would recommend focusing on:
Content Downloads
You should be using a platform that allows you to track content engagement, such as clicks and downloads. Getting this data means you'll be able to see patterns around which type of content seems to get the most engagement from audiences, helping you plan your content for your next events.
Referral Traffic
This will help you understand where most of your event sign-ups have actually come from and help you shape future marketing tactics. For example, if you can see that most sign-ups have come from social media over email marketing, you may want to put more budget into social media campaigns for your next event.
Common Dropouts
Similarly, you might notice a lot of people dropping out of your webinar at a specific time, such as during a certain slide. This will help pin-point areas that may need improvement or removed all together from your next webinar to keep your audience focussed.
Effective Follow Up Campaigns
You can still squeeze more potential leads even after your event has finished. The popularity of on-demand is rapidly rising with more people choosing to watch a webinar when the time suits them best. Using on-demand for one of our client events resulted in a registration boost of 29%. That's why it's important to record your webinar and make the on-demand link easily accessible.

We've already mentioned that you should be sending an email out to any non-attenders with the on-demand link. You could also turn your webinar into a summary blog for your website and promote this along with the on-demand link from your social media accounts.
Think about how you can create as much content as possible from your event and use this to target your audience in the following weeks. Here's some more tips to enhance your event follow-up campaigns.
Conclusion
To summarise, you need to think of the three P's when planning your webinars:
Prepare for everything you think you'll need to create an engaging event

Choose the right platform with enough support and expertise

Practice your content to avoid as many hiccups as possible.
Now you're armed with everything you need to create, host and run a successful webinar, it's time to start putting it all into action. Here's 10 free tools to help plan and create your content, or download our free eBook: The Ultimate Guide To Creating A Successful Live Event Stream.
Inspired for your next online event?
See the streamGo platform in action!