Improve Your Audience Experience With
Hybrid Events
Get the best of both worlds by connecting your virtual and in-person audiences easily with streamGo hybrid events.
Why Run a Hybrid Event with
streamGo?
We're here to help you connect and engage audiences like never before. With hybrid events at streamGo, we have everything you need to create an awesome hybrid event, from simple event setup to providing your AV team with the tools they need to stream to your online audience.
More Audience Engagement
Reach a larger audience and allow them to connect via interactive engagement tools.
Better Success Measurement
We'll track specific interactions from your virtual audience to help you measure event performance.
Networking Opportunities
Engage and connect both your audiences seamlessly with our event matchmaking software.
Improved ROI
A larger audience reach with better engagement could help you see an improved overall ROI.
Reduced Risk & More Flexibility
Your virtual elements are already in place, so if needed, a shift to a fully online event is much easier.
Increased Sponsor Satisfaction
Our fully branded sponsor booths provide additional online opportunities for your sponsors.
Better Inclusivity & Accessibility
Allowing your audience to join from home removes any barriers that may stop them attending in person.
Reduced Environmental Impact
Get rid of unnecessary travel and go paperless with online resources for all attendees.
Two Audience Experiences.
One Seamless Hybrid Event.
Stream via RTMP straight to your online attendees.
Display polls and take questions from all attendees, no matter where they are.
On-demand events automatically created.
View all Hybrid Event features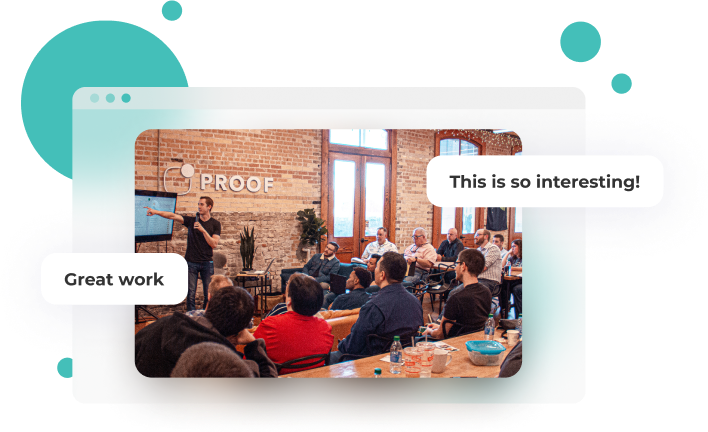 Find Out Why Event Teams Choose streamGo
Frequently asked questions
Of course! You need to be confident that you are producing content that has sufficient appeal to your audience to justify a price-tag, but there's no reason not to charge for access if, for example, you're live-streaming parts of a physical event which delegates have paid to attend.
We did some research and found out the top reasons that would persuade someone to pay for a virtual event ticket.
streamGo can take the payment on your behalf in our platform using Stripe payment gateway. Alternatively, you can use your existing payment gateway solution and register your paid attendees with our platform.
Success looks different depending on the type of event you're running, but our platform provides reports for all of the metrics you'd need for registrations, attendees, questions, clicks, average view and session times.
We also work closely with our clients to understand, from the outset, what the key goals of each event are, and provide advice and guidance to help clients maximise the ROI from every event. We want you to have the best event possible; your success is our success.
Hybrid event meaning: A hybrid event is a physical event that also has virtual elements so that an online audience can attend.
There are different types of hybrid meetings and events. They can be as simple as a webcast at your in-person event, all the way through to a full scale hybrid event with additional virtual elements for your audience at home.
There's actually loads! You're opening up your event to a much larger audience reach by not limiting the event to a physical location.
You may also see a healthier ROI, much better audience engagement and you're armed with data to better gauge event performance.
That's just a few, read more in our article about the benefits of hybrid events.
Most people that have attended a hybrid event virtually have not felt involved, so engagement is key for your online audience.
Our platform can offer a huge range of bespoke interactive features, such as live polls, interactive sponsor booths, games and more.
Remember to keep your online audience updated throughout the event via agendas and updates so they don't feel lost at home. If you also open Q&As at in-person sessions to your virtual attendees, this will also help them feel more involved.
Absolutely! In fact, the addition of online access can open up the networking opportunities even more, and we have just the thing for that.
Our network matchmaking app allows attendees from both your physical and online audience to chat and network. They just need to create an account, answer a few questions and then find their matches!
Find out more in our article about virtual event networking ideas.
You can still have sponsor booths at your physical event, but if you add virtual sponsor booths you're getting even more people engaged on the day.
We'll make sure everything is fully branded and can include things like games, Q&As and polls to get attendees interacting. Read more tips about satisfying your sponsors at virtual events.
Yes, and you definitely should. Including breakout rooms for your online audience will make them feel part of the event and provide them with the opportunity to get involved with topic discussions or ask questions.
Make sure you're involving your virtual audience as much as you can at your hybrid events.
Speak With One of Our Event Consultants