5 Steps To Boost Your Webinar Registration Numbers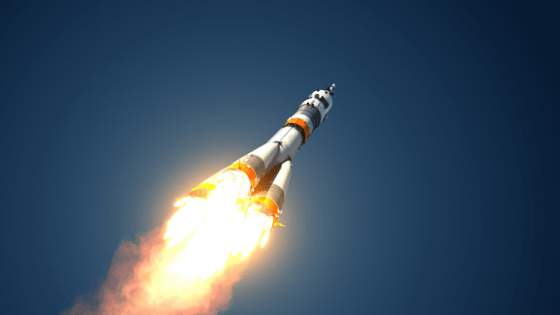 Planning an event takes a lot of time, effort and logistics. Just picture it, your speakers are booked, the venue is agreed and the items being discussed are sounding pretty exciting. And then… (tumbleweed).
Relying on the buzz of your event to drive registrations can be a risky strategy. Without marketing, even the most exciting events can achieve less than aspirational attendance figures. 
And plus, since you've put so much effort into planning the event itself, wouldn't it be a shame to fall at the last hurdle by neglecting your event's marketing?
Whether you're organising a webinar or streaming an event online, this article aims to provide you with some useful tips and tricks to help you boost your webinar registration numbers.
1. Identifying Your Target Audience
Identifying your target audience is important for:
a) Making Your Communications More Effective
Establishing your target audience is crucial when marketing any event, be it physical or online. By profiling your ideal attendees, you can identify the best channels of communication to reach them, whether it be via email, social media or alternative channels.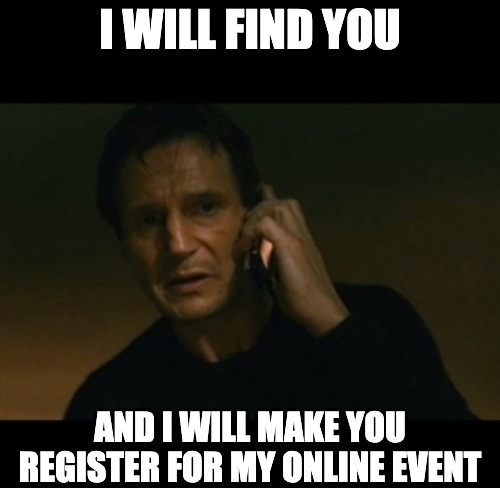 Take social media for instance. Each social network has its own demographic of users and therefore individual perks.
For example, if you're advertising an online event to generate B2B leads, LinkedIn would be a much more effective platform than, say, Snapchat. That's because 93% of B2B marketers now consider LinkedIn to be the most effective site for lead generation. 
By identifying the best channels, you can put your eggs (promotional material) in the right baskets; making your communications more targeted and boosting the likelihood of your target audience registering for your event.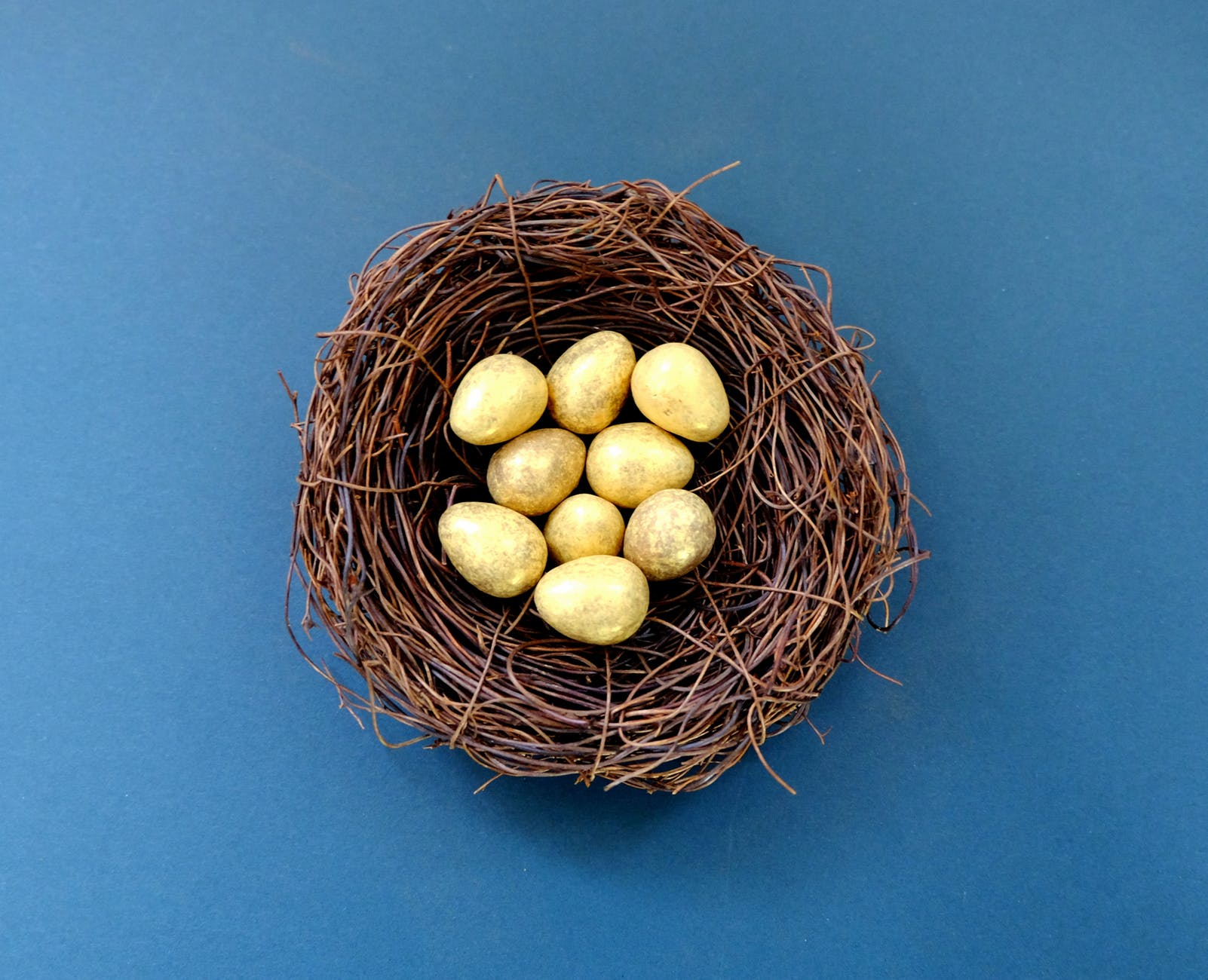 That's not to say that other platforms wouldn't be effective. In fact, we encourage clients to promote their event across a variety of platforms on social media to maximise their reach. 
However, if you're certain one platform is going to be the most effective, don't be scared to prioritise that channel if you think it's going to yield the best results.
"93% of B2B marketers now consider LinkedIn to be the most effective site for lead generation. "
– Neil Patel
b) Tailoring Your Content
Secondly, identifying your target audience allows you to gain an understanding of how knowledgeable they are in relation to your event's content. Through this understanding, you can tailor the level of detail contained within your promo material to a level that matches the knowledge of your audience. 
For example, if you were hosting an event discussing a topic new to your audience, you wouldn't want to include complex, high-level terminology in your promotional material. Doing so could intimidate your audience and make them feel like the event isn't worth watching.
On the flip side, if you wanted to target a more knowledgeable audience that's more accustomed to your topic, you should include more detailed information in your promotional content, to reassure potential attendees that they are going to learn something new.
In this case, oversimplifying your promotional content could also deter this more knowledgeable target audience from attending. It's all about knowing your audience and what they will respond best to.

Get the jist?
2. Creating A Persuasive Registration Page
Now you've identified who you want to attend your online event, you need to create a registration page. This page is where all your marketing efforts will be directing your audience towards and therefore must contain all the information they need to decide whether they want to attend or not. This includes: 
a) Title
Is your event title interesting to your audience? Or just to you? You are asking people to give up considerable chunk of their working day so you need to make sure your title draws people in and explains what the event is about in one sentence.
b) Date and Time
The most obvious of these is a date and time. This needs to be clear and obvious as soon as someone visits the page and also indicative of the time zone the event will be taking place in.
You may also wish to highlight that the event will be available on-demand. This way, if a registrant can't make the time of the live event, they can still register to watch it on-demand at a time more convenient to them.

c) Who's Going To Be Presenting Your Event?
Secondly, you need to include who is going to be speaking in your event, along with their job title and a short biography. Complimenting this with headshots of your presenters is a great way to build a human connection and trust with your potential audience; hopefully encouraging them to sign up.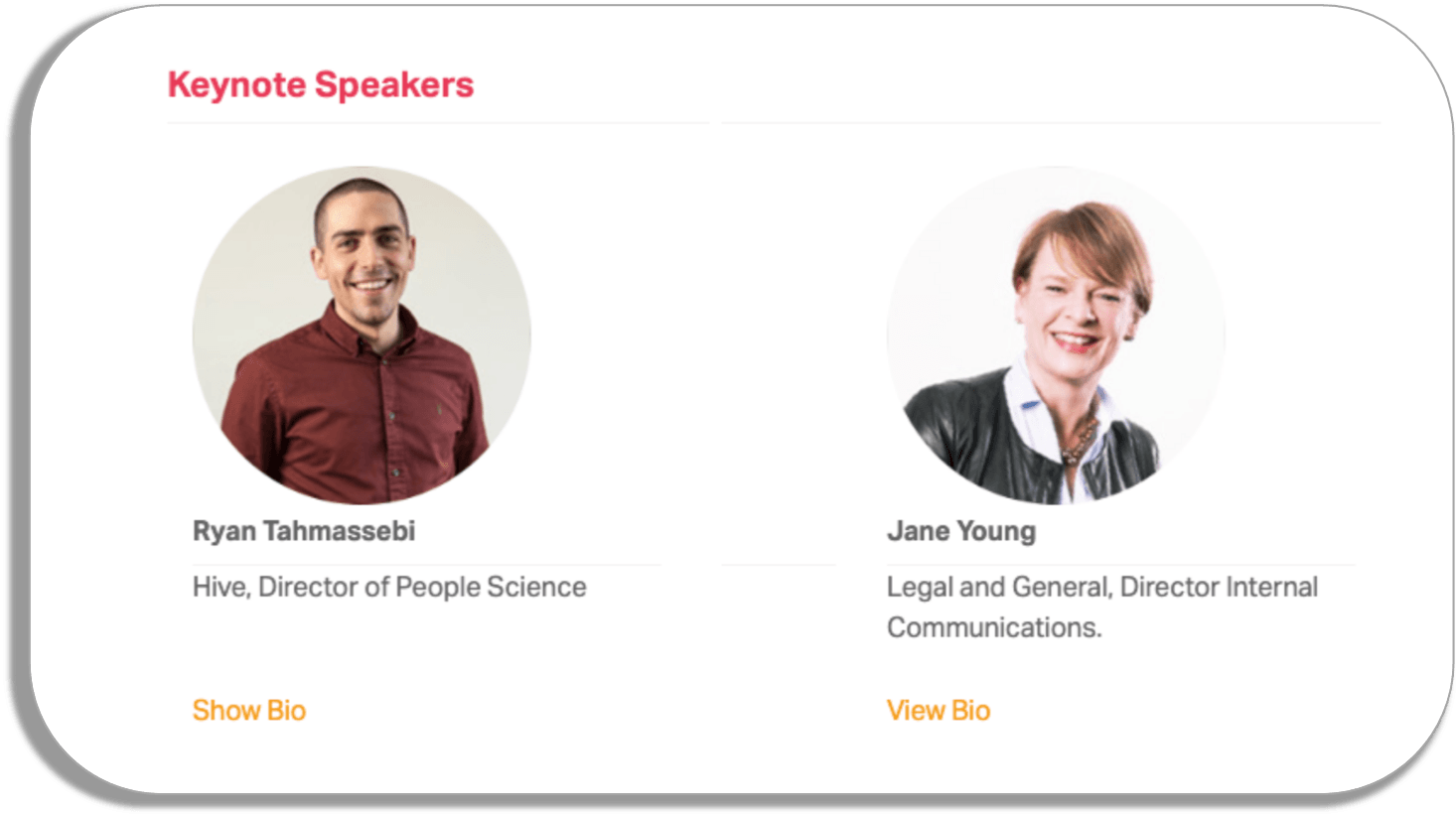 d) What Is Your Event About and What Will Your Audience Gain From Attending?
Most importantly,  you need to explain what the event is about. This is the core information people are looking for and the main reason that you can get them to register. So make sure that all the information they need is included without being too word-heavy. 
Always have in mind that people usually attend online events to learn things and satisfy their hunger for knowledge. So, it's beneficial to include a clearcut bullet point list of what your attendees will learn from the event. Give them a reason to spend time filling out the registration form.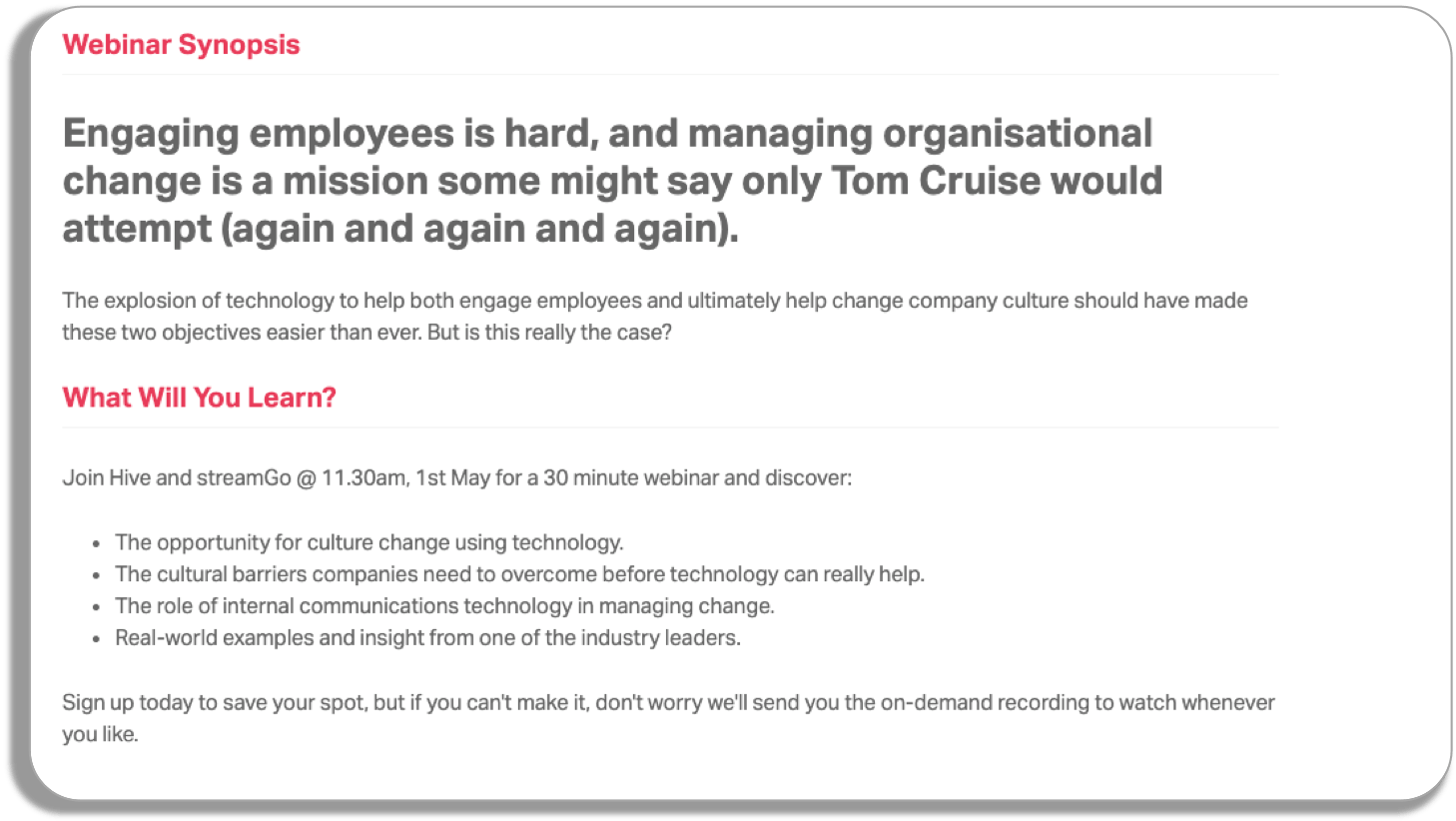 e) Use Video Content To Tease Your Event
Marketers who incorporate video into their landing pages can increase conversions by 80%. According to Wistia, this is because video content can be extremely "sticky" when it comes to metrics such as time-on-page. It's that sticky that people spend more than two and a half times as long on pages with videos than pages without.
So why not include a short video clip explaining what your event's about in your registration page? From our experience, the most successful, highly-converting registration pages have always included a short teaser video explaining what the event will be about. 
f) Optimise Your Sign Up Form
Lastly, and most importantly, you need to provide the registration form itself and ensure that it is optimised for conversions. One of the biggest mistakes people make when designing their registration page is including too many fields in their form. A study by Unbounce tells us that forms with 3-5 fields have a 20% conversion rate while forms with 6+ fields only convert 15%. 
Just put yourself in the shoes of your attendees. When arriving at your registration page for the first time, although it may only take a second, your visitors will assess whether the effort needed to fill out your form is worth the benefits they will receive from attending.
Therefore, when designing your registration page, try to stick to this 'sweet spot' of 3-5 fields.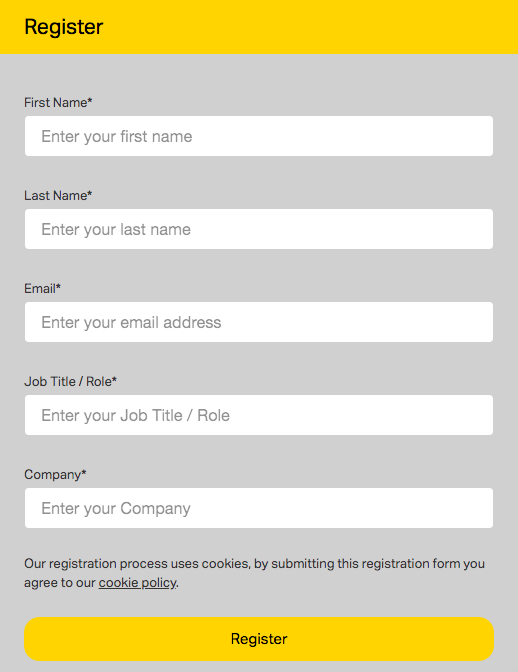 e) One Click Registration
Some good online event providers (yeah, you guessed it… streamGo) offer 'one click registration'. This is where users can register in a single click in their email invite. It can also be used to pre-populate known data in a registration form, leaving only unknown or new fields left to complete.
Why is this good? It removes a big source of friction from the sign-up process. Clients should see an increase in registrations by using this.
3. Using Email To Promote Your Event
Emails are a great tool to  promote your online event and should be a core part of your event marketing strategy. So much so, that Mckinsey states that email remains a significantly more effective way to acquire customers than social media- nearly 40 times that of Facebook and Twitter combined!
Through emails, you can communicate the important details of your event, the reasons why they should attend and what they could learn during the event itself. Most importantly, however, by including a compelling call to action, your email can direct your audience to your event's registration page- encouraging them to take the next step and sign up!
When planning how to use email to promote your online event, it's important to consider the following factors:
a) Use Data
When planning your email campaigns, it's a good idea to target different segments of your target audience with personalised messages. Your audience could be segmented by (but not limited to) their job title, whether they've attended a previous event, or how they've engaged with your other emails.
Also, if you've hosted similar events in the past, it's always worth emailing your previous attendess to inform them of your upcoming event. Having already attended an event and therefore expressed an interest in your events topic, it's highly likely they'll want to attend your next online event.
b) Send More Than One Email
If you've given yourself ample time to promote your event, you should ideally send around 4 emails with the aim of getting people to sign up to the event. Use each email as an opportunity to tease your audience with juicy new pieces of information and reasons why they should attend.
By sending multiple emails, you are increasing the likelihood of your audience opening at least one of them and finding out about your event. However, it's important to try and  remove those that have registered each time you send out a mailshot to avoid bombarding them.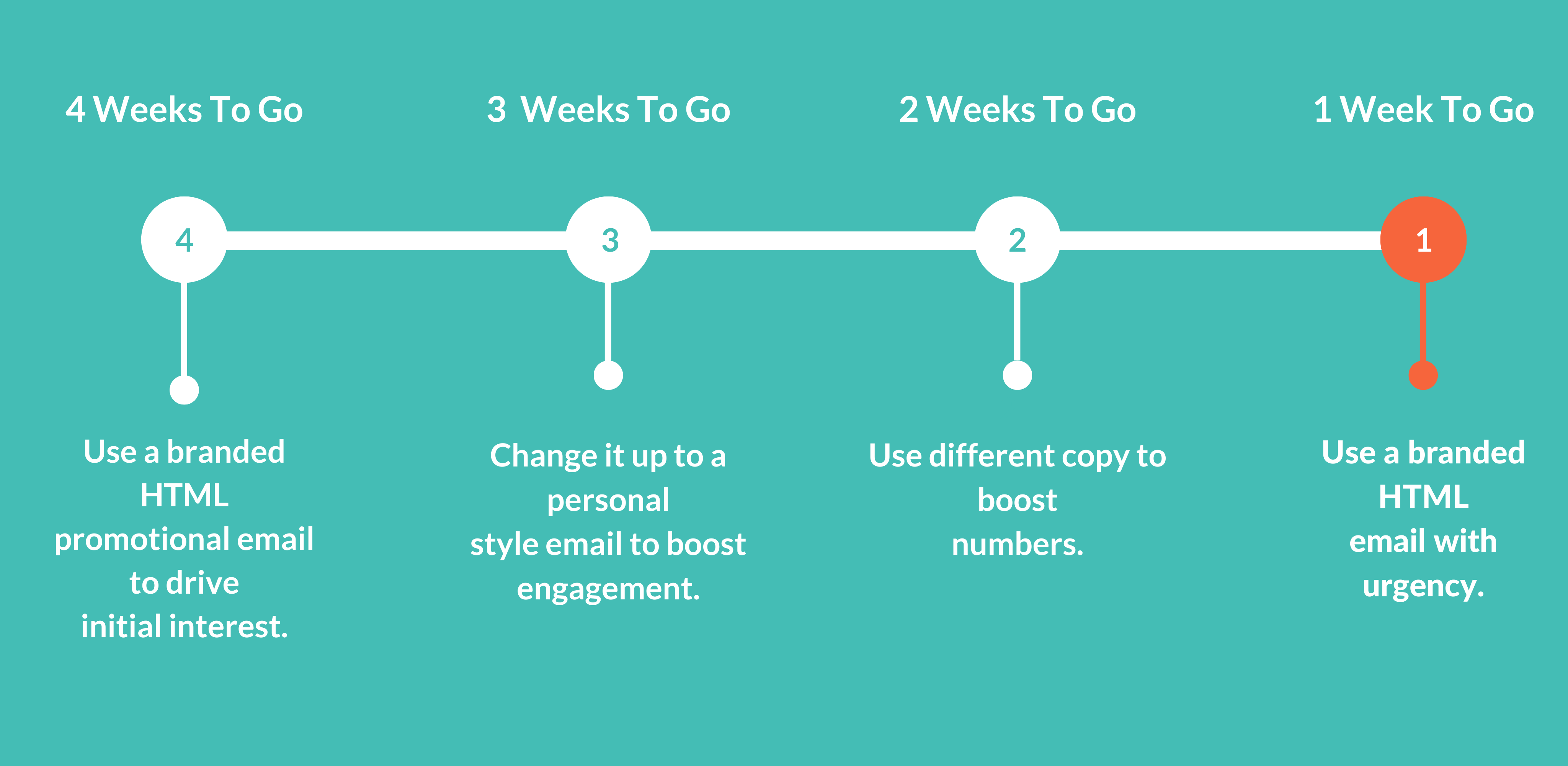 c) Keep Your Email Content Concise And Create Urgency
When writing your emails, keep the information concise. The registration page should be where they get most of the information, so make it sound enticing, but make them want to click through to your registration page. If possible, include testimonials and social proof from previous or similar events. 
People rarely make logical decisions, and instead often rely on emotions. When we see someone else enjoying something, we're more likely to do the same. Our brains are wired to think in terms of stories. When you tell a story with a testimonial, you're tapping into the way your potential event attendees relate to the world which can help persuade them to attend.
What's more, people have an innate fear of missing out (FOMO); a powerful motivator. So whatever you write, try and make your audience feel like they'd be missing out if they don't register and attend your event. 
You could use phrases such as, "spaces are limited" or "there are only 7 days left to register".
d) Send Confirmation and Reminder Emails
Finally, you have your confirmation and reminder emails. Typically, these will be sent out by your online event provider. When someone registers, they should receive a short email, with dates and times and a calendar invite.
Remember, not all of your registrants will remember they have an awesome event to attend. So, once you get closer to the event, you should send this information again as a reminder email. We recommend 24 hours and one hour before your event, but keep in mind weekends and bank holidays.
It's also worth suggesting some other events that your attendee might be interested in watching. If they're interested in watching one of your events then there's a good chance they will be interested in the next.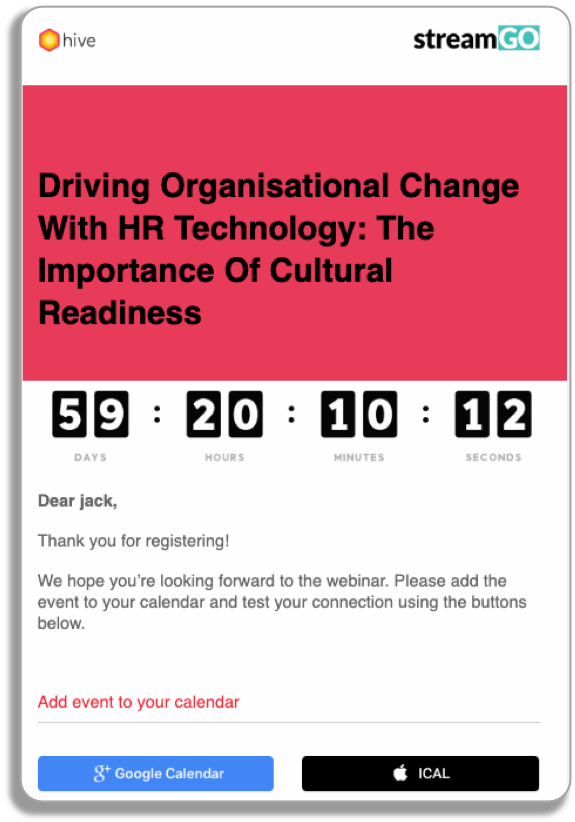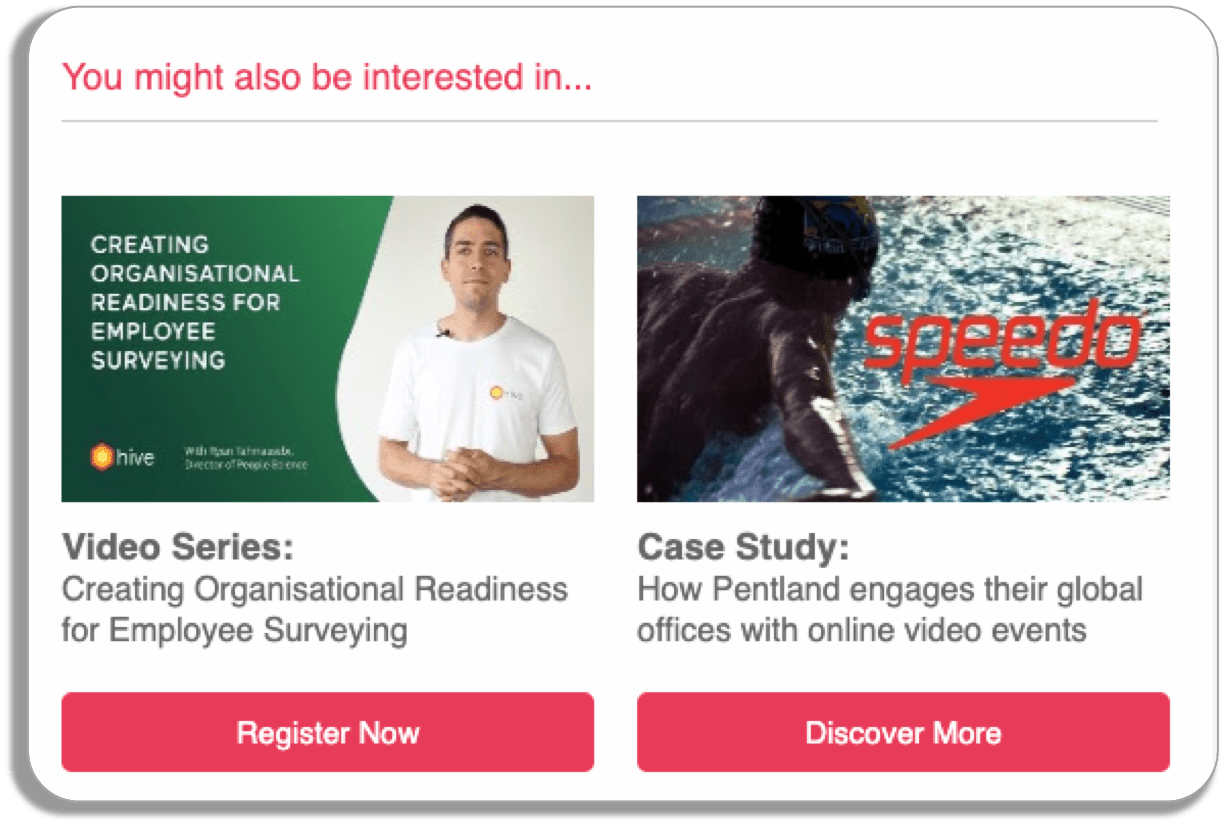 4. Promoting Your Event On Social Media
In recent years, the explosion of social media platforms like Facebook, LinkedIn and Twitter has changed how we communicate. But crucially, social media has opened up many opportunities to increase the reach and attendance of your online events. But how can you make the best use of social media when promoting your event?
a) Make Your Social Content Visual
Firstly, it's important to make sure your social media content is on point and, more specifically, visually appealing so it catches the eye of your event's target audience. 
How? Use Video! By 2021, it is predicted that video content will account for 82% of the internet and 59% of executives would rather watch video content on social media than a simple text-based post.  In addition, audiences are roughly 10 times more likely to engage with and share video content than any other content type. So if you can, use video to promote your event on social. 
You don't need to be Steven Spielberg to make video content to promote your events. There are loads of cheap, easy-to-use tools like Animaker, Headliner,  Biteable or Veed that make video making accessible for filmmakers of all levels.

Veed's servers even run on 100% renewable energy, so you don't have to worry about environmental impact! How great is that?!
But, if video is a little beyond your reach, you can always create bright and eye-catching social graphics using free and easy-to-use design tools like Canva. Just by including a graphic in your tweet, you can increase its retweets by 35%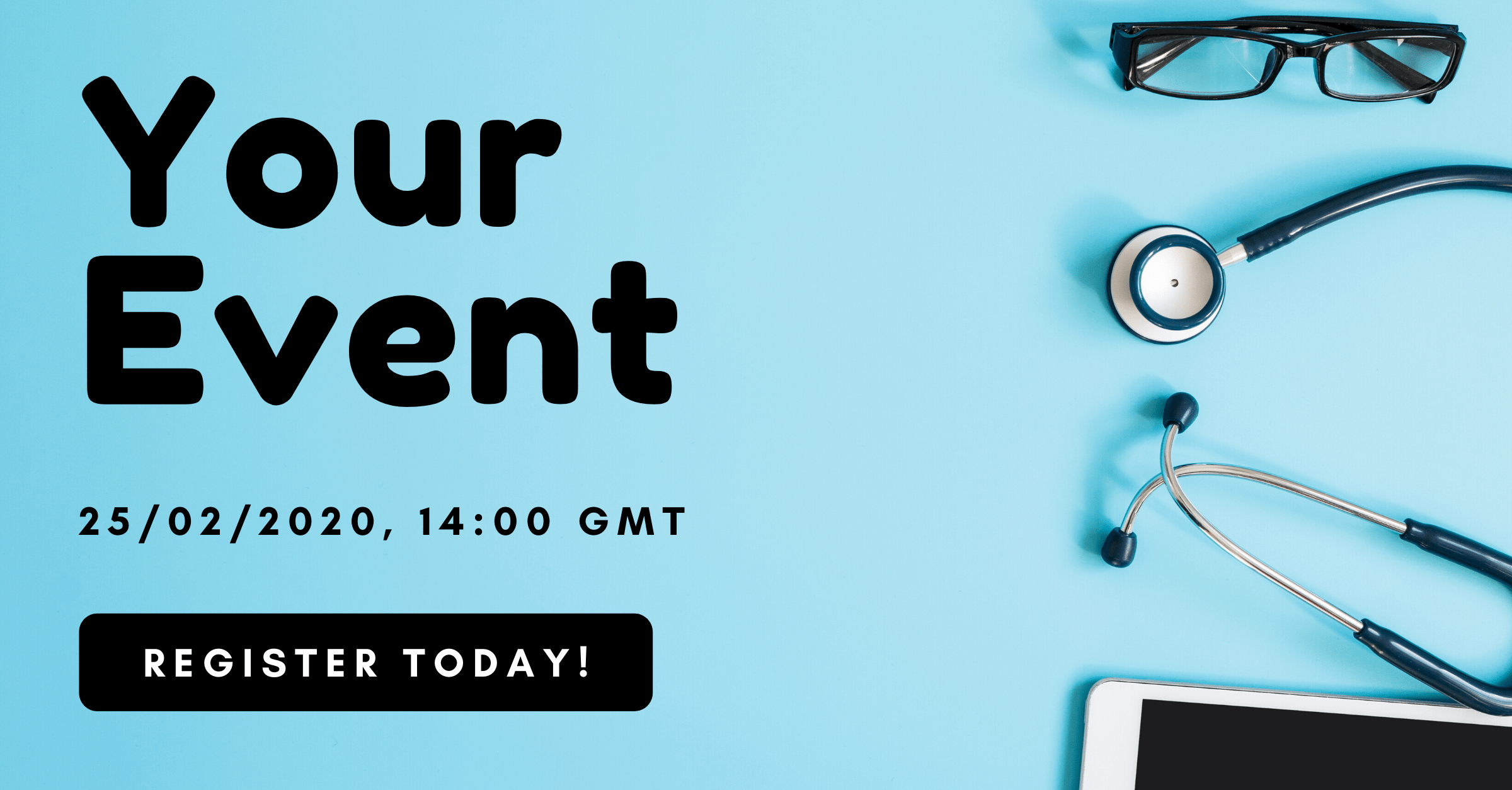 b) Include A Compelling Call To Action (CTA)
Coupled with your exciting new social content, you need to include a compelling call-to-action (CTA) that directs people from your social posts to your registration page. 
When writing your CTA, use active language such as 'register here' to encourage your audience to take action. Check out some irresistible CTAs.
c) Don't Be Scared To Post Regularly
Don't be afraid of promoting your online event on social media once or even twice per day. There's so much noise on social media at the moment that the chance of your audience catching a glimpse of your content is slim. 
According to Track Social, you need to tweet enough to get noticed, which makes sense as they found brands tweeting 2-5 times per day had the highest response rate.
By posting regularly, you are increasing the chances of your target audience noticing your content, clicking through to your registration page and hopefully signing up to your event.
d) Sponsor Your Social Posts To Increase Their Reach
If you have the budget, sponsoring your social posts is a fantastic way of increasing the reach of your content and driving traffic to your event's registration page. But, before you invest hundreds of pounds into your ad, it's important to test your ad with a small budget to make sure it's conversion rates are high. 
You're probably thinking that this is going to take ages, right? It doesn't have to. You can run multiple tests at the same time, measuring the performance of each tweak simultaneously and saving you lots of time.
Once you've found the highest converting version of your ad, you can start increasing your budget and activate it. 
Targeting
When running social media ads, you can target the group of individuals who you want to attend your event based on characteristics that vary depending on the social media channel being used. By targeting your ads, you can help minimise the amount of advertising budget you waste on people who aren't within your target audience. 
The opportunities for targetting differ between each social media platform. For instance: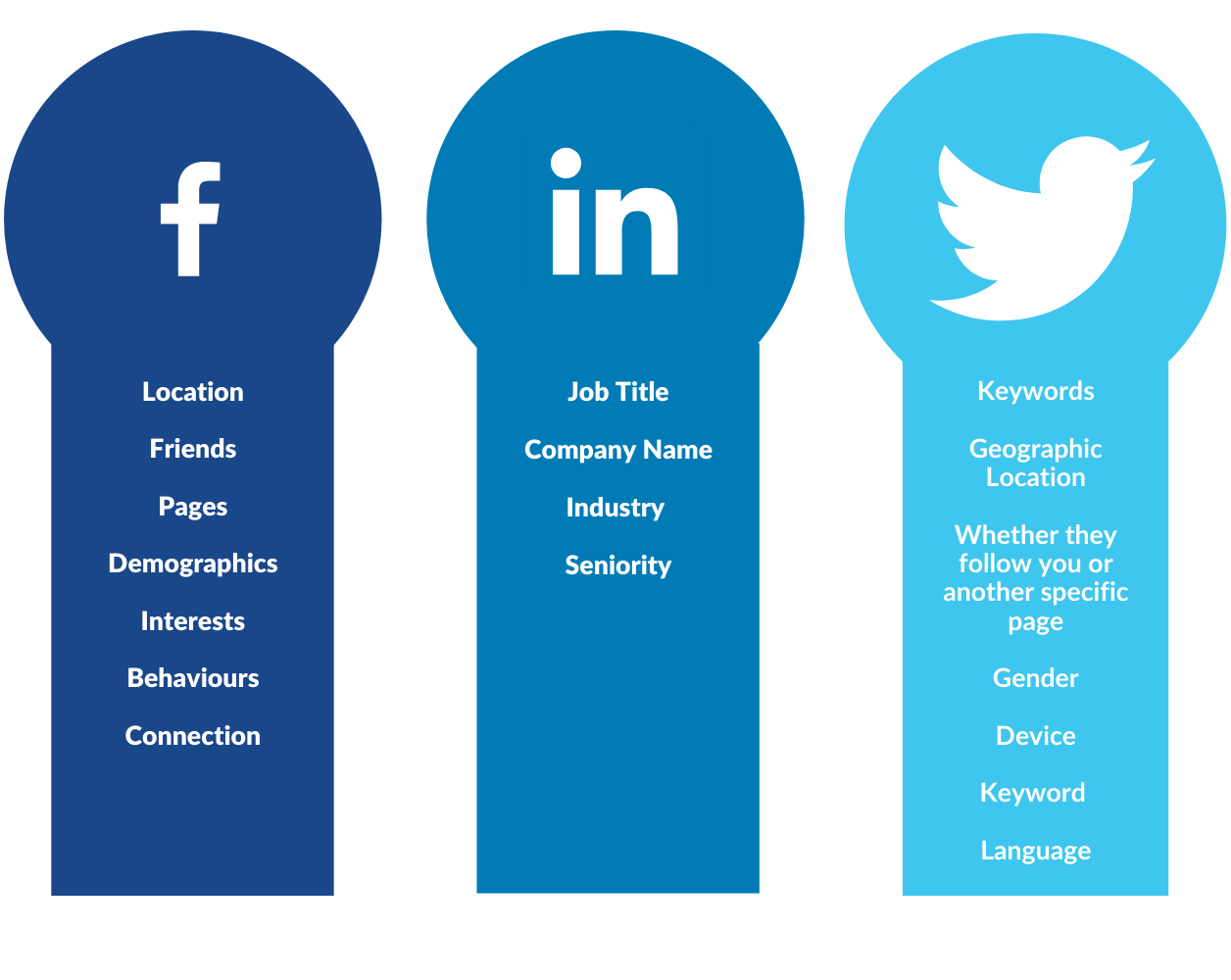 Retargeting
Just think, when you're making a purchasing decision, you very rarely go straight to the checkout after seeing the product or service for the first time. 
The same applies to your event. Your potential attendees might see your social content several times and even visit your event registration page, but still not register. 
Time to panic? Absolutely not. Human decision making is a complex psychological process consisting of multiple stages. But, often it's just a case of giving those potential attendees a bit of a poke to remind them of your event.
This 'poke', comes in the form of 'retargeting' ads; where you can push content to the specific group of potential attendees who have an awareness of your event but have not yet signed up.
For more information, view this useful resource on how to setup a retargeting campaign.
e) Pin Posts To The Top Of Your Social Media Pages.
Pinning updates to the top of your social profiles and pages ensure your promotional content is the first thing seen by visitors.
Facebook
Once you have posted an update about your online event on your Facebook page, you can use the arrow at the top right of the update to pin it to the top of your page's news feed.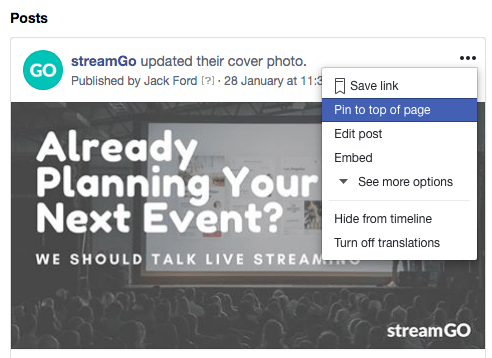 Twitter
Similar to Facebook, on twitter you can pin your tweets by clicking on the top left of your tweet and selecting 'pin to your profile'.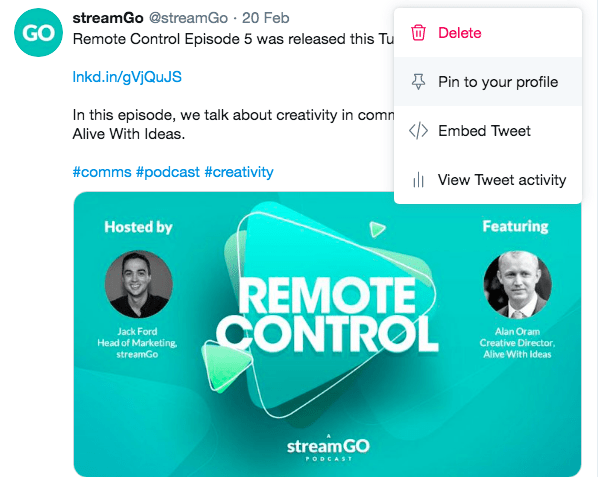 LinkedIn
To pin your posts to the top of your company LinkedIn page, click the three dots to the top right of your post and then click 'pin to top'.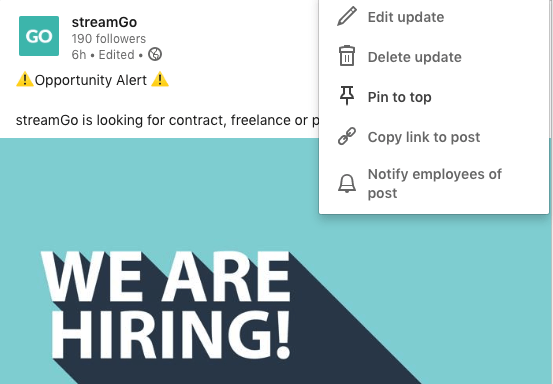 f) Update Your Social Media Cover Photos For Even More Online Event Promotion.
Often, the first thing you see when you visit a company's social media page is their cover photo/ header image. The header image takes up a substantial amount of social media real estate which makes it a good idea to customise it with details of your upcoming event.
By doing so, you're exposing your event to anyone who visits your social channels without them even needing to scroll down to one of your posts. However, whether you decide to upload a custom header image will all depend on the nature of your event. 
For instance, if you wanted to host a private event for, say, internal communications, you wouldn't want to promote it to your customers using a header image.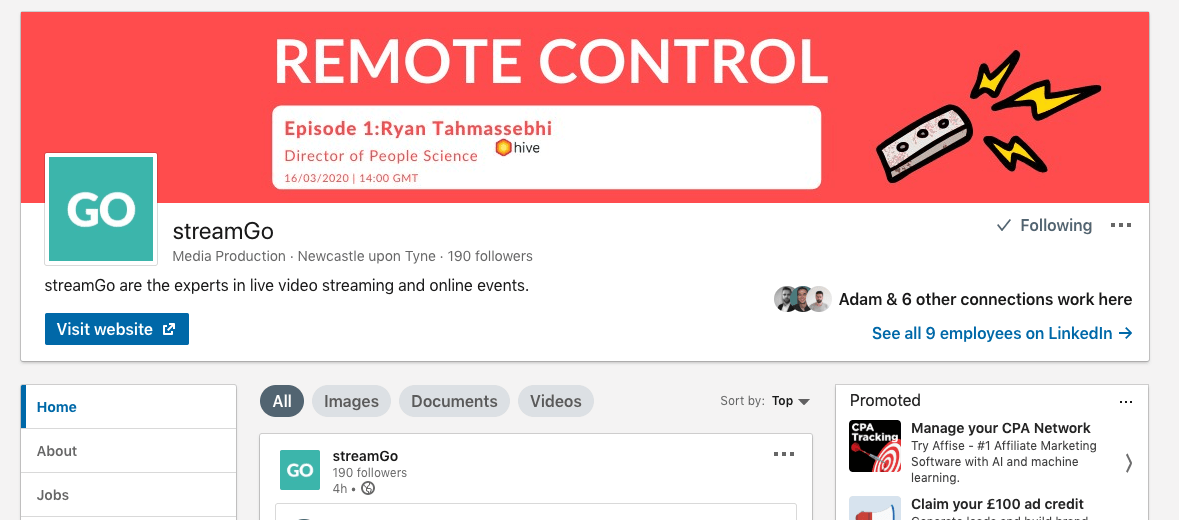 g)  Add Social Sharing Buttons To Your Event Registration And Thank You Pages
One of the most effective ways of promoting your event is to get your attendees to promote it for you. It sounds too good to be true, but it's certainly possible.
How? By including social sharing buttons on your event registration page, your attendees can share the event with their colleagues and friends; increasing your event's reach further. 
Mobile Marketer found that social media users trust fellow consumers much more than brands. Because of this increased trust, the shares and re-posts will pack much more of a punch than anything you post on your company social pages directly.

h)  Using High-Profile Speakers To Promote Your Event
If you have any high profile individuals speaking in your event, you need to make it easy for them to share your event. 
Due to their position or reputation, there's a good chance they could have a substantial social media following. And best of all, their following is likely to have an interest in the subject of your event. Therefore, by getting them to share your posts, you are opening your event up to an even larger pool of potential attendees.
So how can you encourage your speakers to promote your event?
There's no secret recipe to this. However, a good place to start is to make it as easy as possible for your speakers to promote your event. This means you need to provide them with any relevant imagery, copy or links that you want them to include in their posts. Doing so, it won't take much time out of their busy schedules to make a quick, but highly valuable, social post.
5. Promoting Your Event On Your Own Assets
a) Utilise Employee Advocacy To Promote Your Event
Employee advocacy is a lot more simple than it sounds. In essence, employee advocacy is how an organisation can leverage the relationships and networks of its workforce to promote its own products, services and most importantly, events.
While employee advocacy can take many forms, the most effective channel is social media. According to LinkedIn, employees tend to have 10 times as many social media followers than the company itself, and are responsible for 20% of an organisation's total social media engagement. 
Just looking at those stats, it's not difficult to see the promotional power carried by your colleagues that can be tapped into to promote your event. That's why it's a good idea to get your colleagues on board with sharing and reposting the social media content you've produced to promote your event.
b) Promote Your Event Using Custom Chat Bot Messages
There aren't many websites these days where, on arrival, you aren't prompted to interact with a chatbot. In fact, Social Tables predicts 80% of businesses plan on using a chatbot by the end of 2020. There's a good reason for this. 
Chatbots are an excellent and relatively simple technology that provide organisations with many benefits. These include but aren't limited to:
Improved customer service

Encouraging proactive customer interaction

Increased customer engagement

Better lead generation, qualification and nurturing.
And most importantly, in the case of events; Their power to raise awareness for your event.
Using simple messenger chatbots, you can greet website visitors with a short message outlining the details of your event and even answer any basic questions they may have.
Better still, chatbot messages can be set up on specific pages. And by doing so, you can direct your messages to those visiting pages related to your event; hopefully your target audience.
c) Website Banners and Email Footer Images
Between 2014 and 2018, the average office worker sent around 40 business emails a day. Each of these emails could bear an engaging email footer to promote your event. 
Just think, it's a bit like covering the side of a lorry with branding. Every time it passes a car (or lands in someone's inbox), there's the chance that it might appeal to somebody. That somebody might then decide to click on your footer and, you guessed it… they are taken straight to your event registration page where they can sign up.
While this isn't the most targeted approach to promoting your event, it shouldn't be scoffed at. Just imagine, if you have 100 employees usingbranding your custom email footer each sending 40 emails per day, then there are 4000 chances that someone will become aware of your event.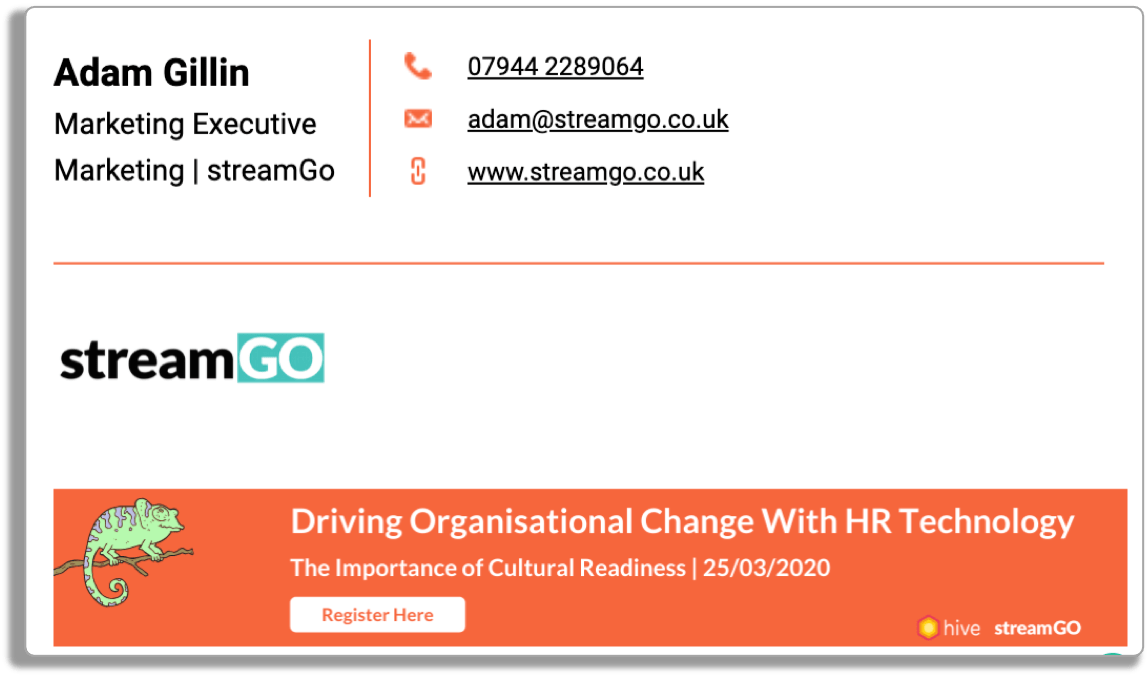 Before You Go...
And there you have it; our top 5 five ways of increasing your webinar registrations. I hope you found them useful. If you are interested in learning more about live event streaming, webinars or online events in general, you should go and check out our Ultimate Guide To Creating A Successful Live Event Stream.
Inspired for your next online event?
See the streamGo platform in action!