How to Write a Successful Event Invitation Email [+ Examples and Templates]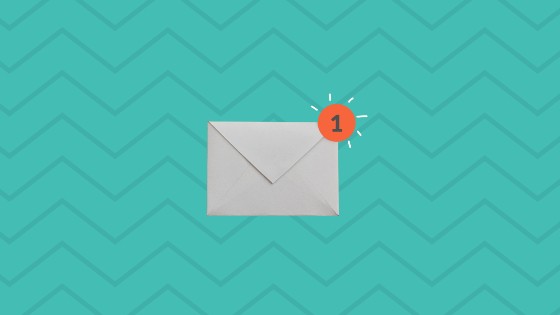 Your event might be all you've thought about for the last few weeks or months but your target audience are inundated with emails every minute and hour of the day.
They're not necessarily going to see your event email pop into an already full inbox and drop everything to register.
Unless you know exactly how to write a successful event invitation email, of course. The sort of marketing email that not only gets opened, but makes the recipient think, "Yep, definitely for me – where do I sign up?"
We've put together our top tips along with examples of some of the best event marketing emails we've seen. Read on to learn exactly how to write an invitation email for an event, and watch those registrations soar…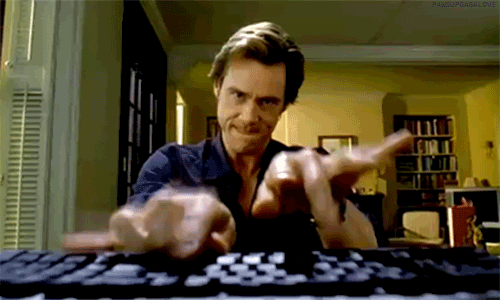 Helpful Email Marketing Tools
Before you start creating the content for your event invitation email, think about which software you'll use to put it all together with.
Here are some email marketing tools we recommend to help you create engaging templates and designs:

Great for scalable marketing automation, HubSpot's popular platform combines email marketing, sales and CRM.

An omnichannel marketing automation platform, dotdigital lets marketers use data for targeted campaigns across the customer lifecycle.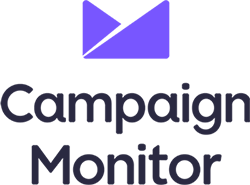 Ideal for basic email marketing, Campaign Monitor is easy to use and offers rich templates and helpful analytics.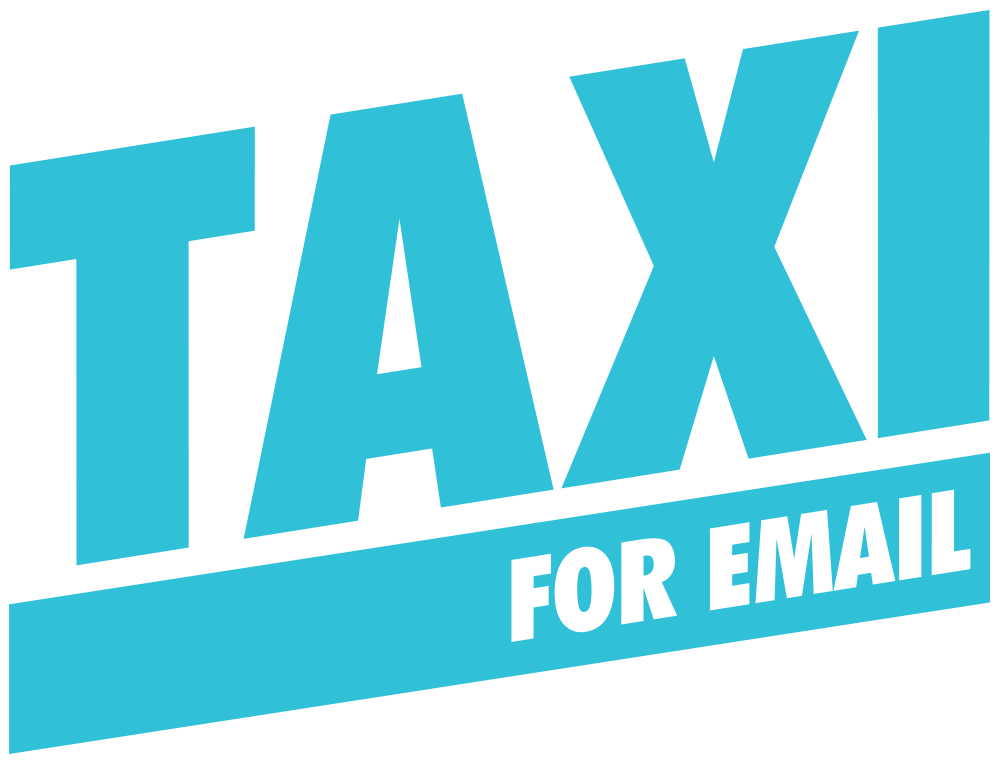 Aimed at brands and agencies, Taxi for Email provides modular templates for simple, scalable email campaigns.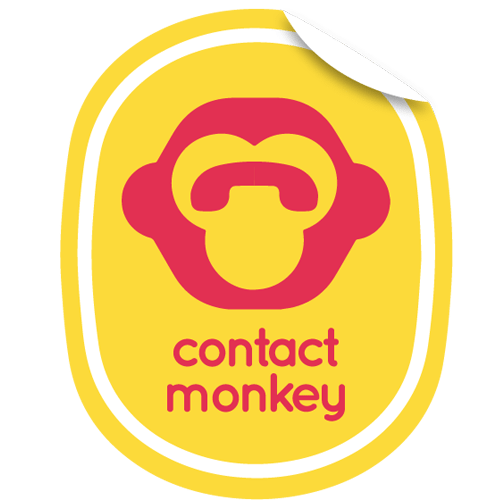 A powerful internal comms tool, ContactMonkey integrates with Outlook and Gmail, and offers stylish, responsive HTML templates.
4 Vital Elements When Creating Your Event Invitation Email Template
It's much easier to write a successful invitation email once you have all the key elements in place.
These range from a clear, concise and catchy subject line, attention-grabbing email content, a trusted sender name and a clear call to action.
Let's walk through the four elements…
1. Write the Perfect Email Subject Line
A successful event invitation email starts with a successful subject line. In fact, 33% of email recipients open emails because of it. 
This stat isn't really surprising when you consider how many generic-looking emails we receive on an hourly basis.
Suffice to say, your event invitation subject line needs to be good. Here are four key things to think about when deciding on yours.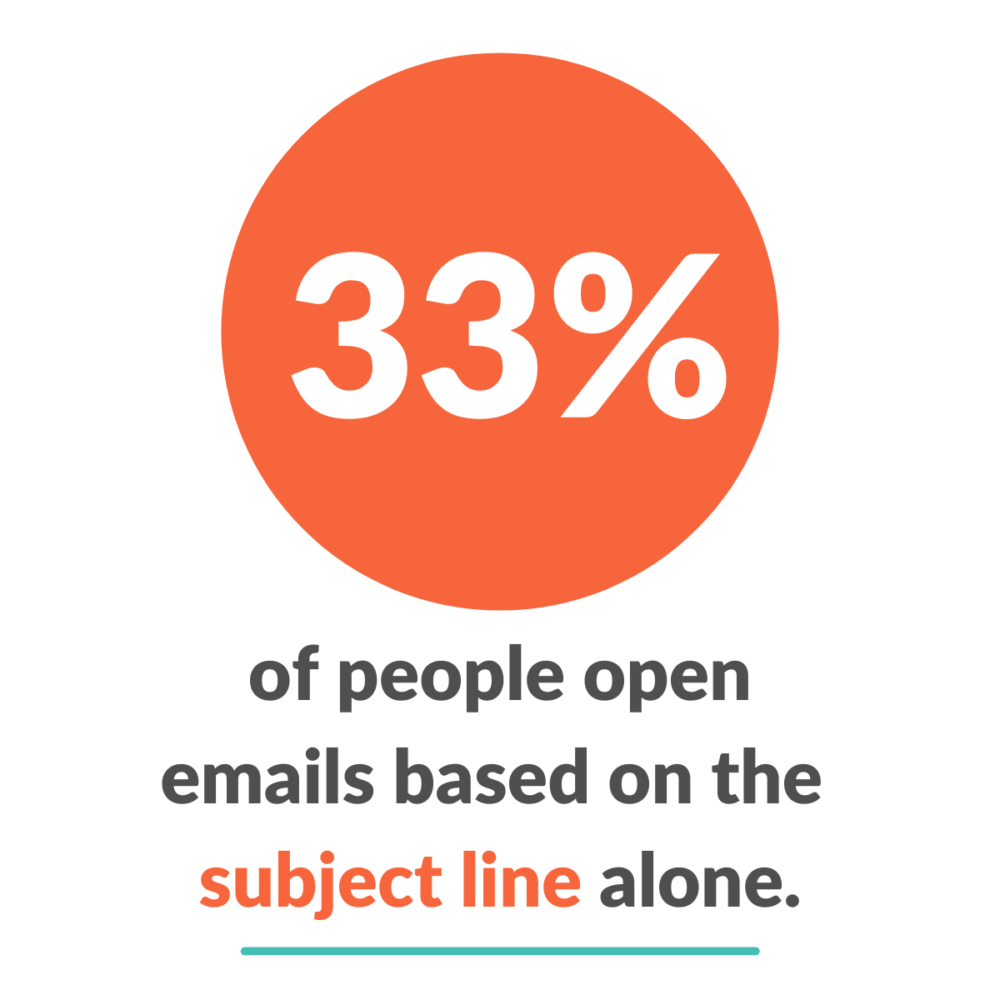 Commit to the 3 Cs
Your event-promoting subject line should fulfil the criteria of the three Cs: clear, concise and catchy.
While a dash of intrigue can be effective, don't be too mysterious: be clear what the email is about.

Also think about what the recipient will be able to see from their inbox without opening it; sometimes less is more.

Consider adding an emoji or two to your subject line. The visual effect adds extra impact and helps draw attention in a mostly monochrome inbox.
Generate Curiosity
Curiosity doesn't just kill cats: it's a winning formula in email marketing. Asking a question or saying something unexpected can work wonders for your open rates.
As with all marketing content, though, make sure your particular audience can relate. There's no point having an intriguing event invitation subject line if it also comes across as completely random.
A familiar pain point you know your audience struggles with is usually a good starting point. For example:
Struggling to create copy that converts? Our latest event has you covered…
Add Personalisation
When you personalise your subject lines, you're sending the message that your brand wants to connect with its customers. Subconsciously, personalisation can have a powerful effect on open rates.
In fact, a study by Experian found that personalised promotional emails have 29% higher unique open rates and 41% higher unique click rates than non-personalised emails.
Personalised promotional emails have a 41% higher unique click through rate than non-personalised emails.
So it could be well worth personalising your subject lines to garner more clicks that hopefully lead to more event registrations.
It could be as simple as adding the recipient's name:
[name], you've been invited.
You might even go one step further and personalise by segmenting your audience. For instance, by industry, location or job title.
P.s – you can also use similar personalisation techniques in your follow-up emails.

Create a Sense of Urgency
We've all seen that little pop-up with the warning red font while trying to book a holiday or buy clothes online. Being told there's just one left really does work wonders for snuffing out hesitation.
You can create a similar sense of urgency in your event registration email subject lines:
Only xx tickets left and Only x weeks left to register will do nicely.

Event Email Subject Line Templates
Here's some event email subject line templates you can steal for inspiration…
Struggling with [event topic]? You should read this…

Want to learn more about [event topic]? Join us at [event name]

[name], you won't want to miss these speakers…

Hey [name], see you at [event name]?

Psst… do you really know enough about [event topic]?

Are you joining us at [event name]? You should be…
2. Create Attention-Grabbing Email Content
So you've created a personalised, intriguing and relatable subject line. Now you need to make sure what's inside your event invitation email matches expectations.
Here's how to create attention-grabbing content with some of the best event marketing emails we've come across.
Summarise the Event Details
The goal of every event invitation should be to clearly explain exactly what the reader will gain by attending the event.
The quicker you're able to articulate this, the faster your reader can decide if it's for them.
Pop event details at the top of the email. Include the:
This example by Webflow does a great job of explaining what the invitation is for. And it states the day, date, time and timezone in the header. So there's no need for readers to scroll for the key details: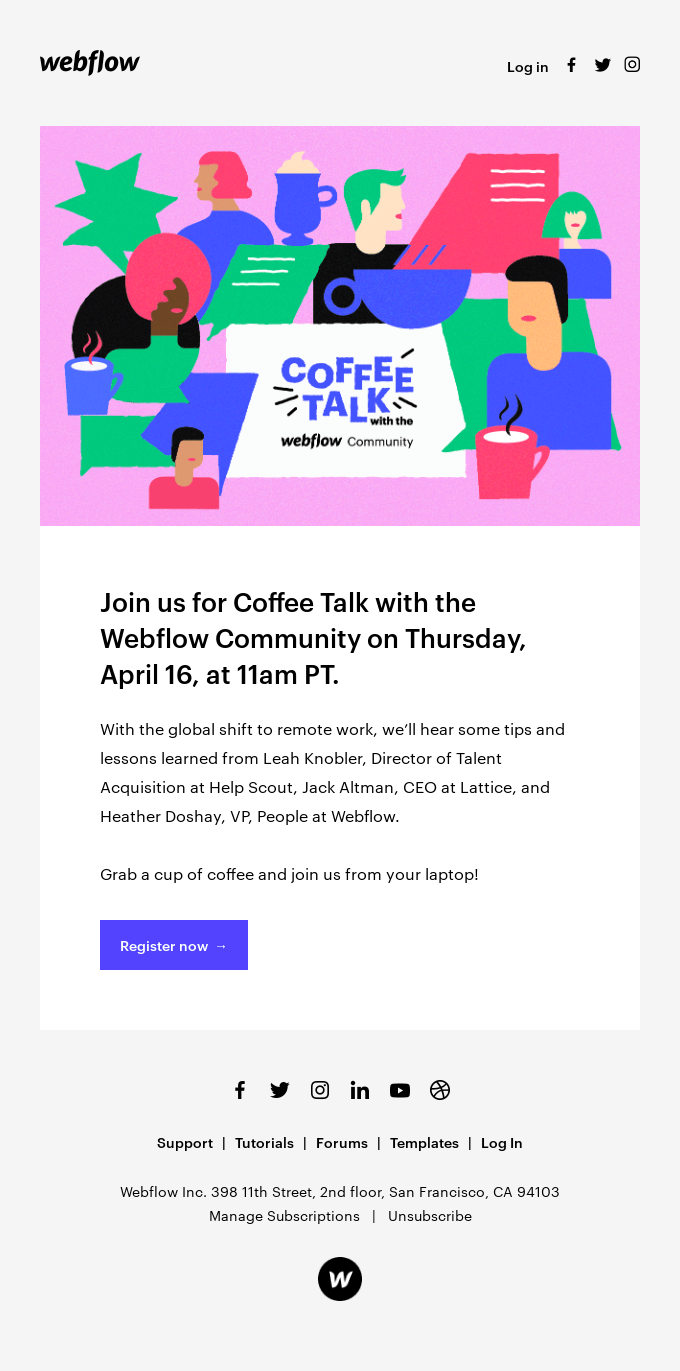 Design for Mobile
According to HubSpot, 46% of email opens happen on mobile. So it goes without saying, your event invitation email needs to look good on the small screen.
People reading your invitation on their mobiles need to easily scan for details without too much scrolling.
Stick with a one-column design and include a large CTA button. Like this example by MailNinja. Use text that's 14-pt or larger.
And if you're sending readers to a landing page, make sure that's just as mobile-friendly, too.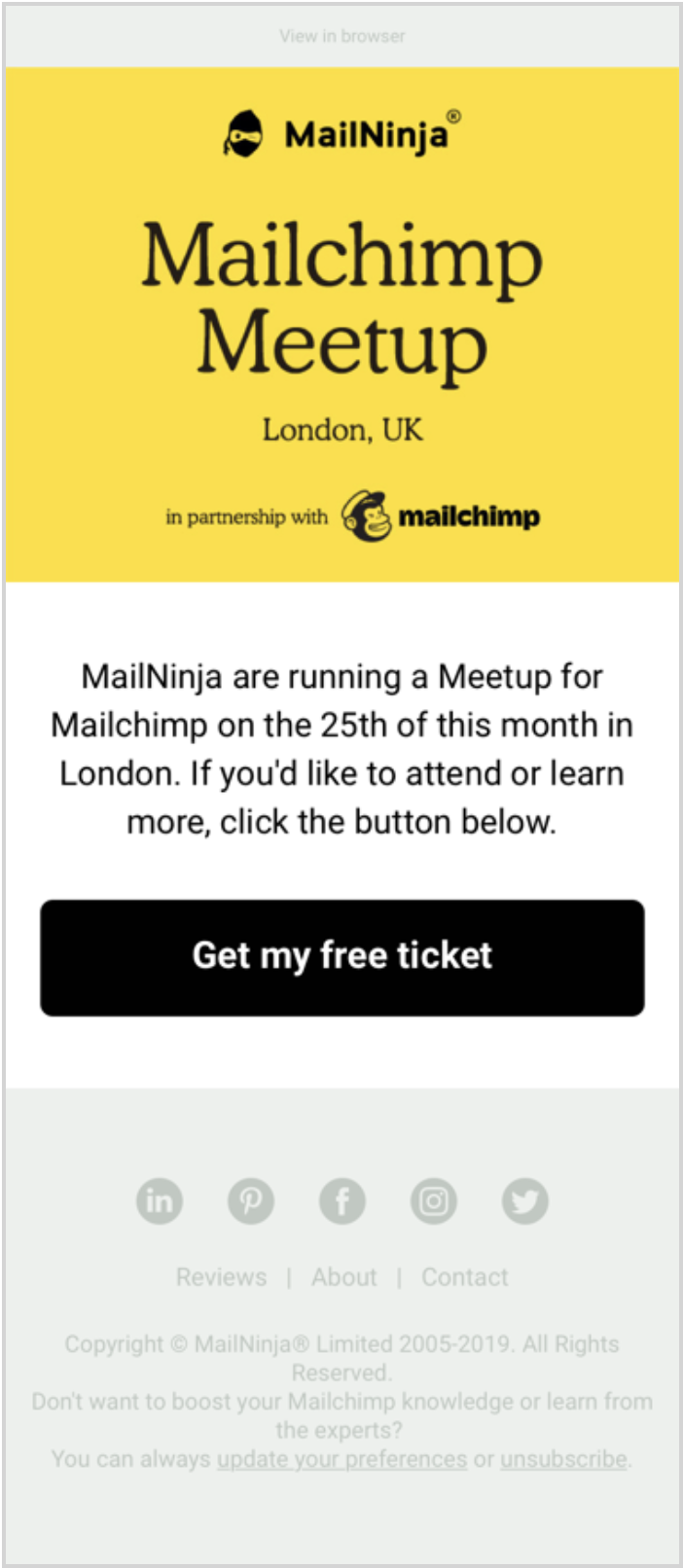 Personalise Your Message
As with the subject line, you can personalise the content of your event registration email by segmenting according to location, industry or job title.

Take this example from Google. By saying who's invited – executives, experts and innovators interested in cloud technology – we're left in no doubt who their ideal audience is.
Your readers will pay more attention if they think you're talking to them specifically. And if your event matches their challenges and pain points, they'll be more inclined to sign up.

Showcase the Selling Point
Identify your event's main selling point. Superstar speakers? Access to exclusive content? Valuable networking opportunities?
Whatever it is, be sure to sell it. Shout about it at the top of your email so readers will see it as soon as they start reading.
CDP Week does a great job of highlighting its two latest speakers in this example.
And the dynamic countdown timer at the top also adds a nice dose of urgency to nudge readers to hurry and sign up.

Stay on Brand
Your event invitation is an extension of your brand as much as it is a registration mechanism. Brand recognition also lends credibility to the event, which means more sign-ups.

Keep tone of voice and colour schemes consistent with your other brand communications, like this save the date email by Framer.
Anyone familiar with the design brand will recognise the stylistic full stop in the headline, as well as the blue tones and visually bold content.
You might be talking about a specific event but your email content should be instantly recognisable as your particular brand.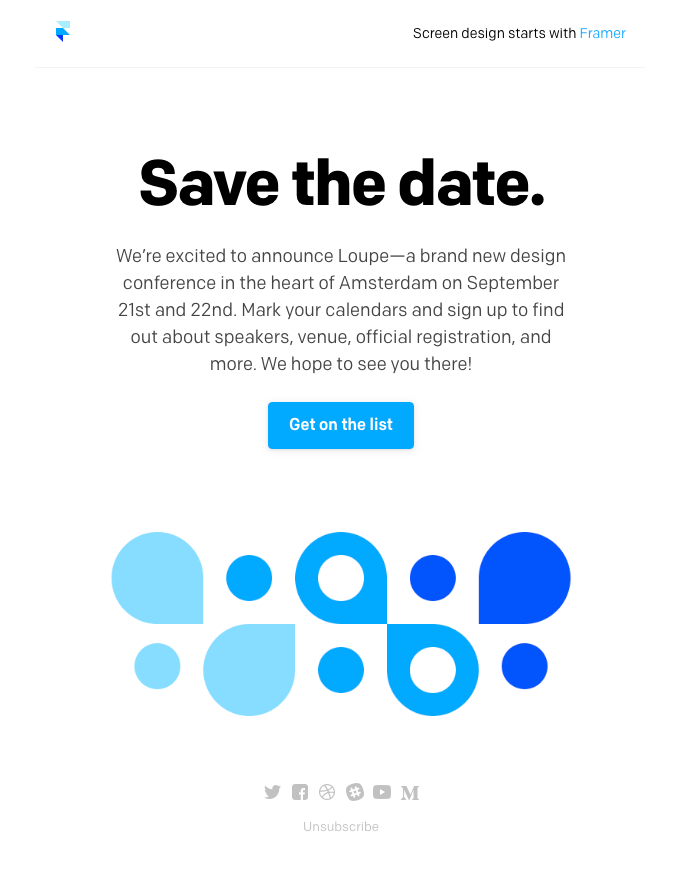 Use Video or GIFs
Promo videos or teasers are highly effective at grabbing attention, as well as entertaining and informing your readers. And they're particularly useful when they intrigue your audience into wanting to learn more.
Using a video or GIF also means you don't need to go into lots of detail in the email body, as your visuals will do most of the talking.
This GIF example by Adweek works a treat. Without using any words, the blurring face is a perfect accompaniment to the event invitation, which is all about personalisation.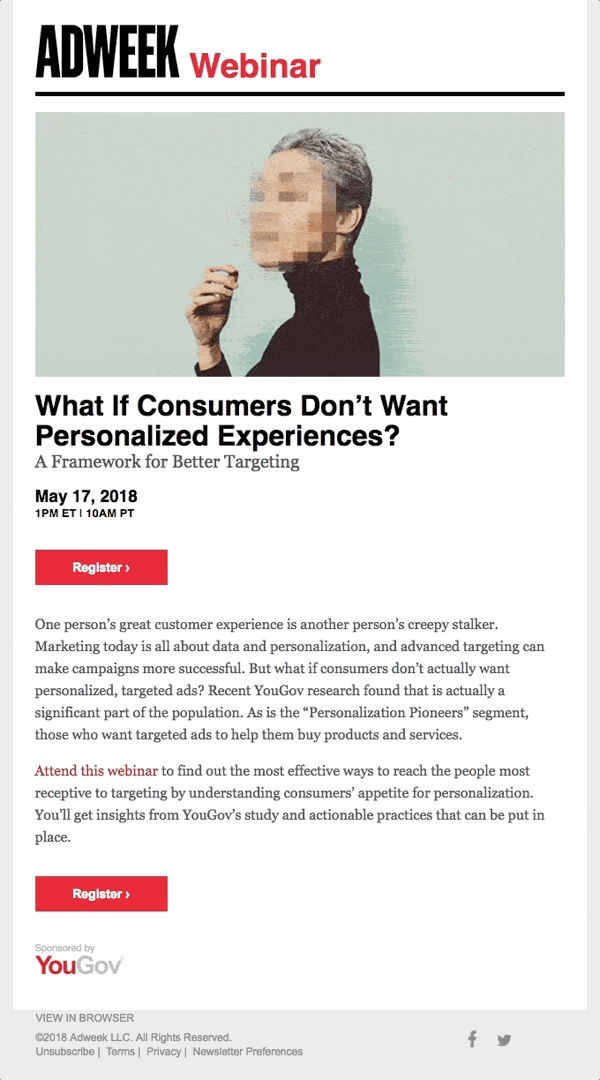 You can even create your own branded GIF to help your event invitation email stand out. If you're using a funny GIF or video, make sure the style and tone suits the event, your brand and your audience.
Here are some of our top picks for tools you can use to create attention-grabbing GIFs and videos:

Biteable allows you to make studio finished edits, with plenty of animations and stock footage to choose from.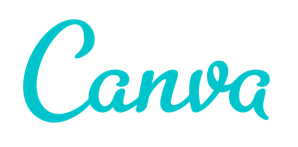 Canva is good for easily creating graphics, GIFs and videos, with a well-stocked library of options.

Headliner transcribes your audio easily and you can select from a library of stock shots and GIFs to add to your videos.

Camtasia is great for creating and editing videos.

Lumen5: handy for creating videos, with a library full of stock shots.
3. Use a Trusted Sender Name
A not-to-be-overlooked detail when sending an event invitation email is your sender name. Always send your invitation from an individual name or company name readers will recognise.
The last thing you want after all your hard work putting together an outstanding email is for it to land straight in the spam folder.
A familiar name lets people know they can trust the content. It also helps you avoid being classified as junk, or worse, overlooked and/or deleted because the recipient has no idea who noreply@amazingevents.com is.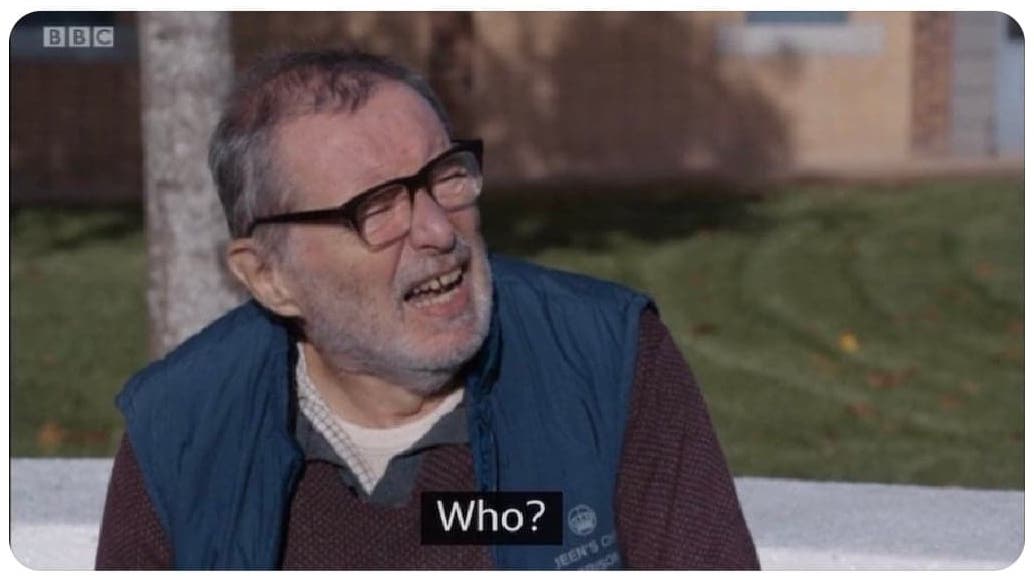 4. Highlight Your CTA
Clearly the whole point of your event invitation email isn't just to say you've put an event together: you want to encourage lots of sign ups.
In only a few words your CTA button needs to work hard to secure those all-important registrations. Consider tone of voice. You might prefer to keep things simple and to the point with a simple 'Register now' button.
Or if your brand is more informal, you might go with 'Sign me up' or 'I want in' buttons. This example from Litmus has gone with the more casual but direct 'save my seat.'
They've also included two CTA buttons – one in the header and one in the footer. If there's room, you could also add a button to the body content.
By adding multiple CTAs, you're increasing the chance of readers clicking through to your registration landing page.

Summary
Hopefully we've given you enough inspiration to get your next event invitation email off to a flying start. In a nutshell, remember the four key elements when preparing your next registration campaign:
Get your subject line right: create urgency, personalise, be concise

Make your content unmissable with videos, personalisation and a summary of the event

Use a familiar sender name to boost trust and increase credibility

Include a clear call to action, repeated throughout the email.
If you're looking for more advice about running a virtual event, check out our top virtual event tips to learn more about running a successful digital event.
Inspired for your next online event?
See the streamGo platform in action!