Event Sponsorship Guide 2023 [ + Outreach Template ]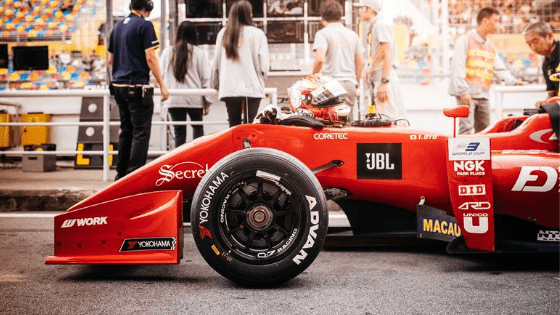 Keep your virtual event sponsors coming back for more in 2023...
Many events wouldn't be possible without securing sponsorships to either part or fully fund them. So sponsorship packages need to be carefully thought through, and the benefits clearly stated.
And we can all agree that events have changed over the last two years. A LOT. So it's time you really thought about tailoring your approach with sponsors to stay on top.
Whether you're hosting a virtual or hybrid event in 2023, our guide covers everything you need to find, secure and satisfy your dream event sponsors…
What is event sponsorship?
Event sponsorship is when organisations have a space at an event to promote their service or products, usually in exchange for financial support or products.
Why have event sponsors?
Because it's a mutually beneficial experience. As an event organiser, you're gaining additional funding or benefits, and in return your sponsors have the opportunity to get in front of potential customers.
It's also great for relationship building and expanding your event network. But, you need to make sure you build a healthy relationship with sponsors so they keep coming back for more.
Let's take a look at what that entails…
How to find sponsors for an event
A good place to start is researching sponsors at competitor or similar events to yours. But you don't just want to go with the same sponsors as everyone. Finding your own unique sponsors that you know your audience will actually be interested in will put you way ahead of the game.
Here are some things that can help you with that:
Research your target audience. Who do they follow on social? Who are they actively engaging with? This can help you find sponsors that are perfectly suited to your attendees' interests and needs.

Keep tabs on these people and brands on social media. Something exciting happening within a business? Hit them up – they may be more likely to sponsor an event if they've got good news to share. Plus, you can use this as ammo in your personalised approach (more on this below).

Start researching and asking businesses who their target audiences are. If you have the same or a similar customer base but they provide a different service, they'll probably be a good fit for your event.

If you have any businesses already in mind, trying Googling or doing a Twitter search for the company name + 'sponsor' to see if they've sponsored any events recently.
On our video series Unmuted, Rand Fishkin, CEO of audience research tool SparkToro, delves into how you can use SparkToro to understand your audience's behaviour on social media and find the best accounts to target for your events:
How to approach sponsors for an event
Your first point of contact with potential sponsors is vital. It's the difference between an actual conversation or a first class ticket to ghost town.
That's why knowing exactly what will interest them is key. How do you do that? Keep reading.
Do your research
And we don't just mean having a quick Google of the company.
Find the relevant contact(s) and comb their latest social posts. Have they been involved in any other events recently?
Could your event impact their business right now? For example, they might be launching a new product and your attendees are their perfect target market.
Tell them exactly why your event will be the best place to amplify their products and services and you're halfway there.
Get a warm intro
If you have any mutual connections, reach out to them first to see if they'll give you a warm intro to your sponsor. This is way more likely to be a success than any cold email or message.
Get to the point quickly
Just like all of us, your sponsors will most likely get inundated with outreach emails and InMails every day. So you need to get to the point. And quickly. Lay out exactly why you're contacting them and what they'll get out of sponsoring your event within the first couple of lines.
(Really) personalise your messaging
Is there anything worse than seeing an email start with 'Dear Sir/Madam?' instant mark as spam
And if you think you'll get away with only personalising a name, think again. This is where you hard research will all be worth it. Adapt your messaging as much as you can so it relates exactly to your sponsor's target market and their interests. Mention that social post you've just seen them share, talk about their brand new product, name-drop any common connections.
Be transparent
Lastly, be completely open and honest with any potential sponsors about what they'll get and how much it will cost. You need to build trust. Nothing will turn your sponsors away quicker than if they find out you're offering different prices to people.
Show what you can offer
Then you can move onto your big sell. Creating a stat pack is the best way to show off exactly why sponsors need to invest in your event. Look to include things like:
Registration conversion rates

Top industries/job titles expected at event

Typical sponsor booth visit conversion rates

Number of leads generated at previous events

Mailing list numbers

Social media reach
You can also start to mention some of the amazing features and benefits you're able to offer sponsors during the actual event. Things like sponsor booths, networking programmes, advertising….
Sponsor outreach email template
Here's an example outreach email you can use as a template and tweak to personalise. Remember; try to be as specific and concise as you can!
Hey Sarah,

I've just seen your post over on LinkedIn about the latest product launches at Sprout Social – how exciting!

We're actually hosting a virtual event soon which is all about helping Marketers better promote their events online, and our attendees fit your exact target audience.

So far we have:

10,000 attendees

60% of those are people working in Social Media Management

Attendees are joining from all over the world (over 10 countries!)

The majority of these attendees currently don't use a social media scheduling or editing tool, which is why our event will be the perfect space for you to promote your new products at Sprout Social.

I'm thinking maybe a cool looking sponsor booth and some exciting co-marketing opportunities.

I'd love to have a chat and tell you all about the event. Would 3pm on Tuesday work at all?

Thanks for your time and have a nice day!

Emma
What to offer event sponsors
Attractive sponsor packages will pique your sponsor's interest. They're your opportunity to show what you'll give them in return. You should be offering things like co-marketing opportunities, speaker slots and attendee analytics.
Better yet, why not consider gold, silver or bronze tiers to offer a range of packages or add-ons? Here's what you could include in your sponsorship packages…
Promotional materials
Co-marketing opportunities are a great way to amplify your event reach, so promotional materials should be a standard in your sponsorship packages.
Clearly detail exactly what materials you can create to promote the event and the channels you'll amplify them on. This can include;
Social media content (organic posts and paid ads)

Email marketing

Website banners

Email banners

Event posters

Guest blog posts
Make sure you provide your sponsors with their own collateral to encourage them to share with their network.
A speaker slot
Give your sponsors the opportunity to engage with attendees at their own session during your event. This is something you'd probably want to include in a gold package if you're offering sponsor tiers!
Sponsor platform training
This one can easily be overlooked, but it's so important to make sure your sponsors fully understand how your chosen event platform works.
Offer some set training sessions as part of your event sponsorship package. Not only will this help avoid any user issues  during the event, it's an opportunity for you to spend some more time with your sponsors and build that relationship.
Swag bags
Everyone loves a swag bag, so be sure to include your sponsors in any that you're planning to give out at your event.
You could even include additional promo materials depending on what package your sponsors are on. This acts as a nice little sweetener to persuade them to go for gold.
How to display sponsors at your event
Now, let's look at ways you can effectively display sponsors at your event and all the sponsor features and benefits you could provide…
1. Branding
Let's start with the obvious: sponsor logos. Making sure each logo is visible on the registration page, confirmation emails and the main event pages is probably the least your sponsor will expect, so this definitely needs to be included in your packages.
There are also some different ways you could feature sponsor branding.
One in-your-face style is to feature a logo or a banner of logos in your video stream. This will ensure your sponsor logos are seen, but may negatively impact the audience experience.
If you're running a multi-track event, having a different lead sponsor for each track wouldn't be unusual, so check you can feature different sponsor logos on different pages.
2. Data Driven Reports
Perhaps the most valuable sponsorship benefit is access to your attendee data. And we mean going beyond just name, email address and job title.
If you're using a virtual event platform like ours that tracks all event interactions, you'll be able to show your sponsors all sort of user  insight, such as:
Which attendees interacted with specific content on their pages

The most popular resources or sessions

Which channel led to the most registrations

Which job title/industry/country  scored the highest engagement rate
These extra insights are like gold dust and will have your sponsors queuing up to be involved in your next virtual event.
3. Interactive Sponsor Booths
Having a dedicated page or booth for each sponsor gives them a unique opportunity to showcase their content to your audience.
And if you're using an event platform that caters for it, you can create some really awesome bespoke booths that house tonnes of engagement features to help your sponsors get more leads. 
Think about including things like:
Sponsor Live Chat
Giving sponsors the opportunity to chat one-to-one with their booth visitors will help them find new leads and deliver a healthy ROI from your virtual event.
Online Meetings
Sponsors are always looking for ways to engage event attendees with their products or services, and one way to achieve this is via online meetings. Booths let attendees book an online video or audio call with your sponsors. An ideal tactic for sponsors to gain real value from your virtual event.
Content Hosting
Sponsors should treat their booth like a micro site. Hosting videos, downloads, podcasts and links all focused on your event topics is an easy way for sponsors to showcase their expertise to an engaged audience.
Plus if you're using the right event platform, all these content interactions will be tracked so your sponsors can easily measure the quality of their leads.
Sponsor Games & Competitions
Often used to generate leads at physical events, there's no reason why competitions or games can't be part of the sponsor booth at your virtual or hybrid event. Prize draws, quizzes and embedded arcade-style games are all excellent options.
4. Network Matchmaking
Ever used network matchmaking  to help sponsors get more leads from your events?  You should. Here's why…
Network matchmaking works by connecting people that are classed as a good match. This can be based on different factors, like matching people who work in the same industry, have the same job title, or even by similar interests.
Why not match your sponsors with attendees that are the perfect fit for their service or product? It's such an effective way to deliver a warm lead straight to them.
What your sponsor's 'ideal' attendee looks like will depend on their target market and product.
A simple starting point could be to ask what your attendees' main interests or pain points are and matching them with the relevant sponsor.
This can be quite the task if done manually, so using a networking matchmaking tool that automates this for you can be a life-saver.
Our AI matchmaking app will instantly match people with your sponsors based on any criteria your sponsors require. They'll then be able to start a chat conversation or video call during the event.
5. On-Demand Hubs
By making your event available to watch on-demand after it's finished, you're opening your event up to further registrations, attendees and potential leads for your sponsors.
In fact, a client of ours recently had over 60% of attendees tune in to watch their event on-demand. But you can still do more.
Why not turn your event into a video library that includes all sorts of lead gen magnets for your sponsors? You could include nice extras such as:
Additional sponsor videos

CTAs to sponsor websites or additional services

Extra helpful resources

Video search so viewers can find relevant sponsor information quickly
6. Time Your Event Right
Timing your event right for optimum engagement is so important. It'll get the most people in front of your sponsors when they're in the best mood to interact.
But, how do you do that?
We've collected data from our most recent events to work out exactly what day, time and duration your events should be for the best engagement rates.
Here are our findings for the best day: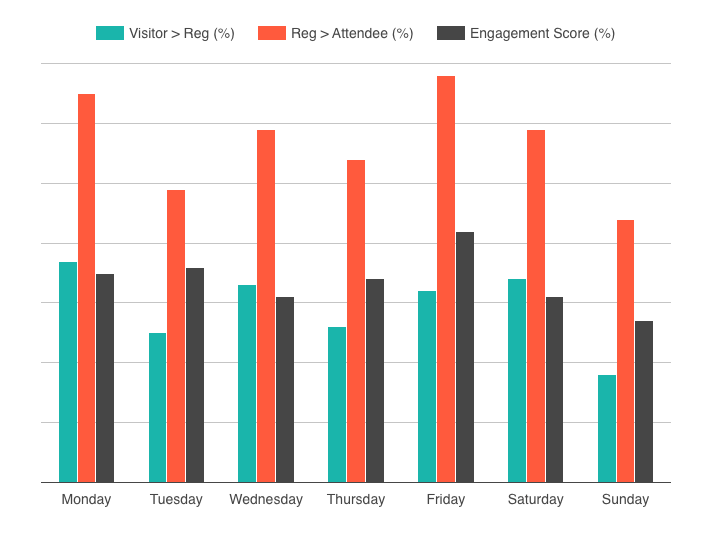 Check out the rest of our findings here.
7. Advertising
Hopefully, your virtual event content has attracted lots of enthused attendees, all glued to their screens. A sponsor's dream scenario.
Adding a sponsor video to the start and end of your sessions will give sponsors prime exposure while the audience is most engaged. Your sponsors are likely to have existing video material they can use; case studies, explainer videos or highlight reels would all be acceptable.
Displaying a clickable CTA during the sponsor video will add extra value, and drive traffic to a specific landing page.
And don't forget the humble banner ads – they're still around because they drive clicks. Whether in promotional and confirmation emails or across the virtual event pages, consider offering sponsors the opportunity to run display ads.
8. Roundtable Hosting
Roundtables give your sponsors an effective way to lead a conversation on a topic and engage with interested attendees. These sessions help position your sponsors as experts on the chosen topic, which boosts their brand image and increases opportunities for direct conversations.
Roundtables could focus on audience challenges, market trends or even be related to the sponsor's products or services. 
Quick Takeaways
Virtual and hybrid events provide unique opportunities for sponsors; building enticing sponsorship packages will help you secure essential funding.
Just remember that building trust with your sponsor is key to a fruitful relationship. Make sure you take the right steps when approaching potential sponsors for the first time.
If you're using an event platform that can cater for it, there are so many features you can offer sponsors for effective lead generation, such as network matchmaking and virtual sponsor booths. And don't forget about the power of utilising on-demand. 
Lastly, be sure to add extra value to data sharing by digging into attendee behaviour, such as the most popular topics, search activity and referral channels.
Running an event soon? Here's 16 vital KPIs you should be using to measure event success.
Inspired for your next online event?
See the streamGo platform in action!