How To Use HubSpot To Generate More Leads From Your Webinars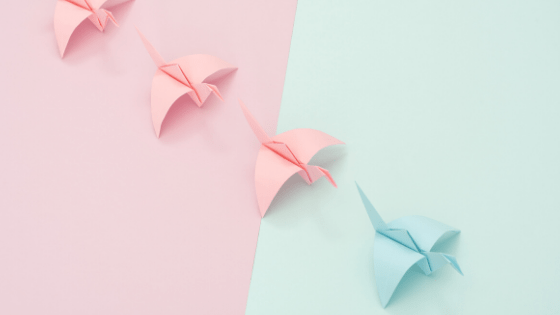 Webinars are one of the most effective lead generation tactics around. But often, marketers running a webinar strategy have to deal with different systems to execute the promotion, delivery and follow up of their events. Thankfully for HubSpot users, they can do almost all of it from their automation system.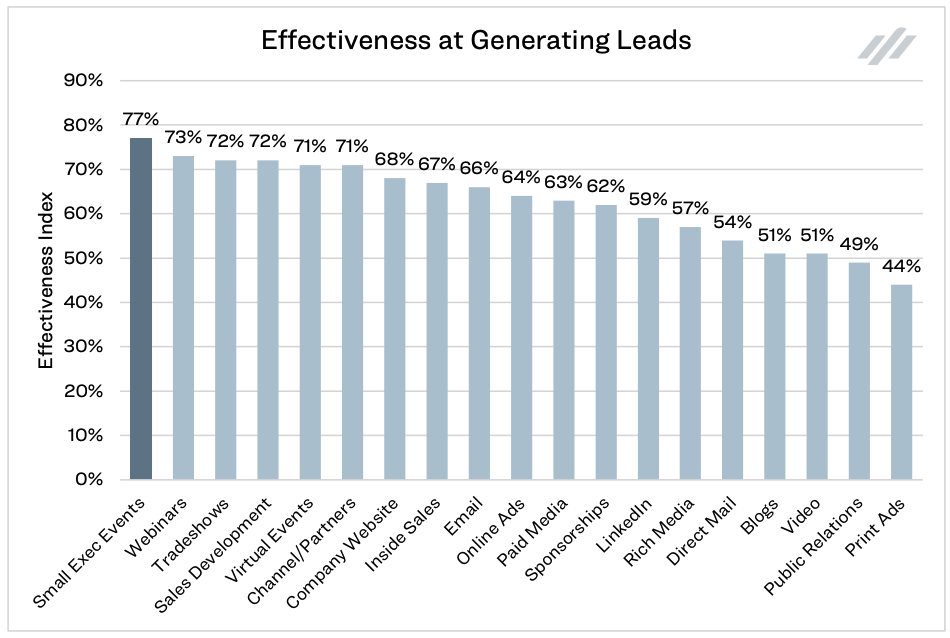 Let's take a look at a few ways you can use HubSpot's marketing features to help you boost signups, attendee numbers and ROI for your webinars.
1. Increase Registrations
Landing Pages
One of HubSpot's key features here is landing pages. Arguably the best in the landing page business, Unbounce, simply explain that landing pages increase conversion rates and lower cost per leads. So it's a no brainer really.
The key is to keep your message singular (register) and convincing (to learn XYZ), and the
Call To Action (CTA) obvious.
A big registration-killer is a long sign up form. So think about what data you need, this is often different, and much less, than the data you want.
If you don't have the time or resources to create your own landing page from scratch, HubSpot offers a host of templates you can edit. Even some of the free templates look great and will help you drive sign ups, with clear layouts and CTAs.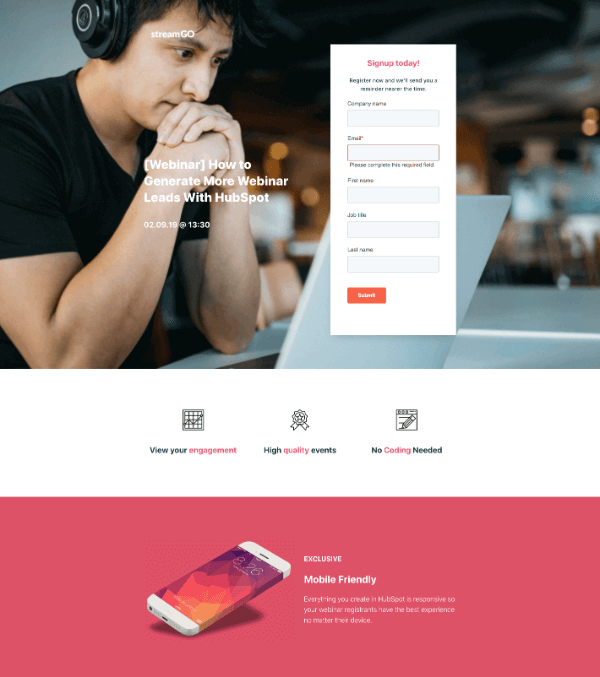 Registration Form
Of course, to get the registrations you'll need to include a form on your landing page. Again these are also quick and easy to set up in HubSpot thanks to some ready-made templates. I'd recommend starting with the "Event Registration" template and adding or amending fields from there.
A nice little extra at this stage is to send users to another page on completion, instead of the default "thank you message". The next page should include the following;
A calendar link to remind them when your webinar will start. Eventable is a great free tool to create this link.

An option to test their connection. This will help troubleshoot any issues before the webinar starts.

 Suggested content. They've already shown an interest in what you have to say, so keep them engaged with other related content and keep them on the hook for your webinar (and post-event follow up).
Retargeting
This next step is one that will really set your webinar marketing efforts apart from the crowd. Using HubSpot workflows and automated emails you can retarget those people who viewed the sign up page but didn't actually register for the event.
Try including quotes about past events, or more detail about what the webinar will cover to convince these people to sign up.
I'd also recommend creating a workflow step to populate lists of sign ups and registration page abandoners. These will be important to help you maximise attendance and produce effective follow-up campaigns.
Re-engagement Workflow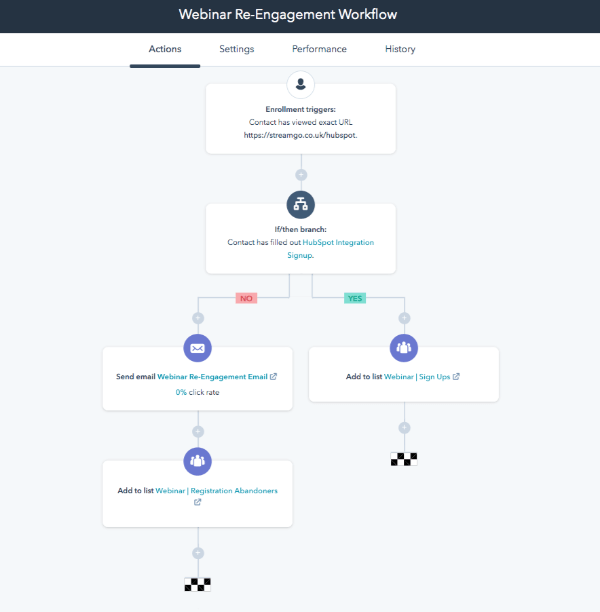 Retargeting Email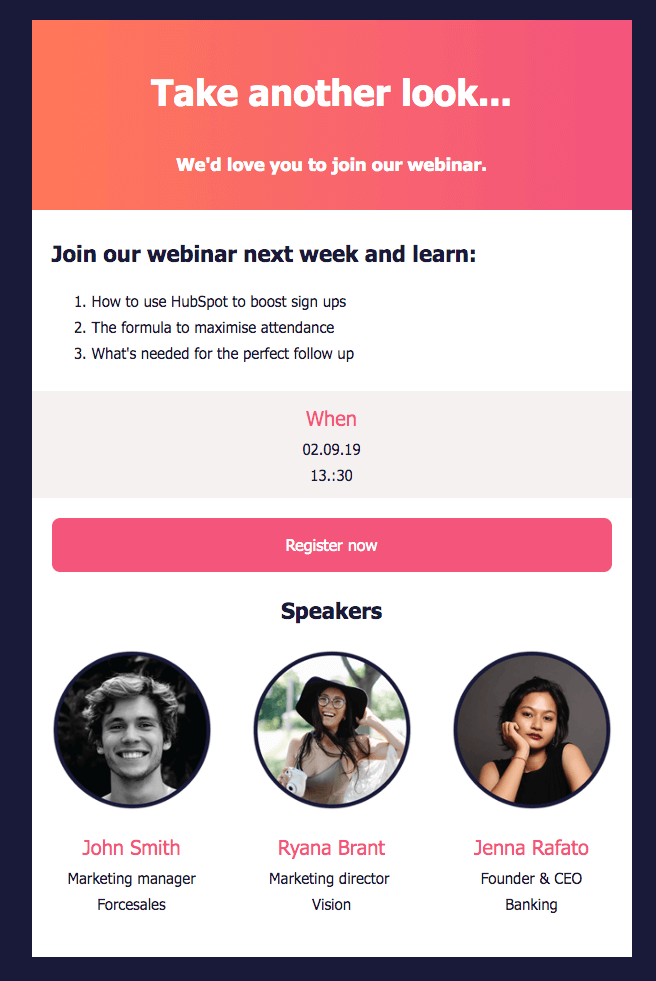 2. Maximise Attendance
Our webinar clients at streamGo see an average of between 45% – 55% attendance rate from their registration lists. It varies between industries and target audience, but it doesn't stray too far from that range.
One (well two really) step(s) to help make sure you're getting as many registrants to your webinar is reminder emails. It's best to test the right time to send yours is but as a guide I'd suggest 24 hours before the event and then again between 60 and 30 minutes before your webinar is due to start.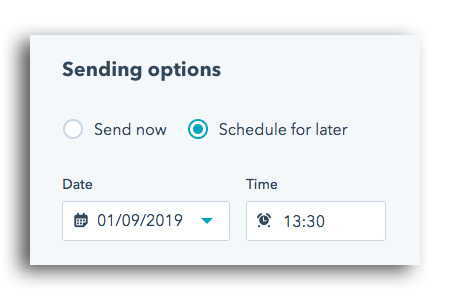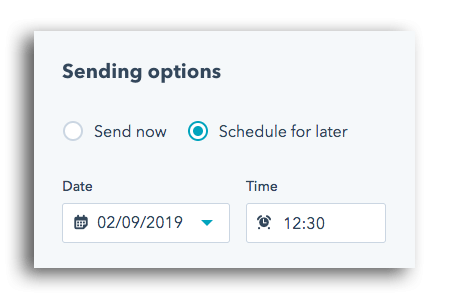 Here's where the lists I mentioned above come in handy. You can set up these reminders way in advance and schedule them for your chosen time(s). The workflows will make sure any new registrants are added to the list to receive these emails.
You could even try a "one hour to go" last chance email to the abandoners and see if you can pick up a few more viewers.
3. Effective Follow Up
Putting the webinar together and getting people to sign up and then attend is a lot of work. But really, it's just the start. Where you'll see the success in cold hard numbers is from an effective follow-up plan. Luckily this is pretty much what HubSpot was built for. Making use of sequences, lists, the meeting scheduler, documents and more should be the backbone of your follow up strategy.
However, to make sure you're targeting the right people with the right message, you'll need to understand who actually viewed your webinar, and, ideally, you want to know how long they watched for and their engagement. This part is out of HubSpot's hands, and is down to the provider you use to stream your webinars. Do they have an integration that means you can view and act on this data within HubSpot? Or do you have to rely on exporting, reformatting and importing various CSV files?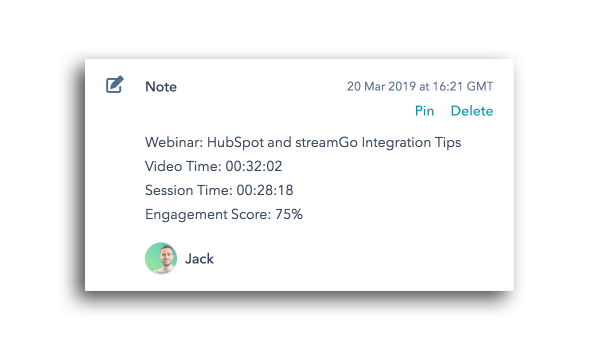 Here at streamGo our HubSpot integration not only syncs attendee engagement data to their contact record in HubSpot, but it also means we take care of webinar streaming, landing pages, calendar links, connection testing and reminder emails while you get all the data directly in HubSpot.
Inspired for your next online event?
See the streamGo platform in action!