How To Create Content For Your Virtual Event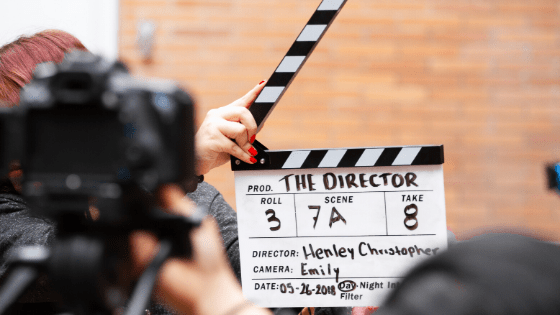 Ready To Become A Pro At Creating
Virtual Event Content?
This is the second article in our series of articles discussing how to run a virtual event. If you want to find out how to time your virtual event, check out article 1.
Content is the number one element that will help you achieve your virtual event goals. It can also be the main cause of virtual event-related headaches. 
But it doesn't need to be.
With a thoughtful plan of action, you could produce most, if not all, of your content before the (virtual) doors open. 
But before you rush off to pre-record everything, remember: what you want to achieve from your event should play a big part in deciding the format of your content. For example, if you want to engage employees with a new benefit, having a session with live questions will be crucial.
1. Pre-Recorded vs Live
Similar to other great debates, such as sweet v salted popcorn, The Beatles v The Rolling Stones and Sega v Nintendo, choosing between pre-recording your virtual event content or streaming it live is a tricky one.
Sweet, both and Nintendo, right?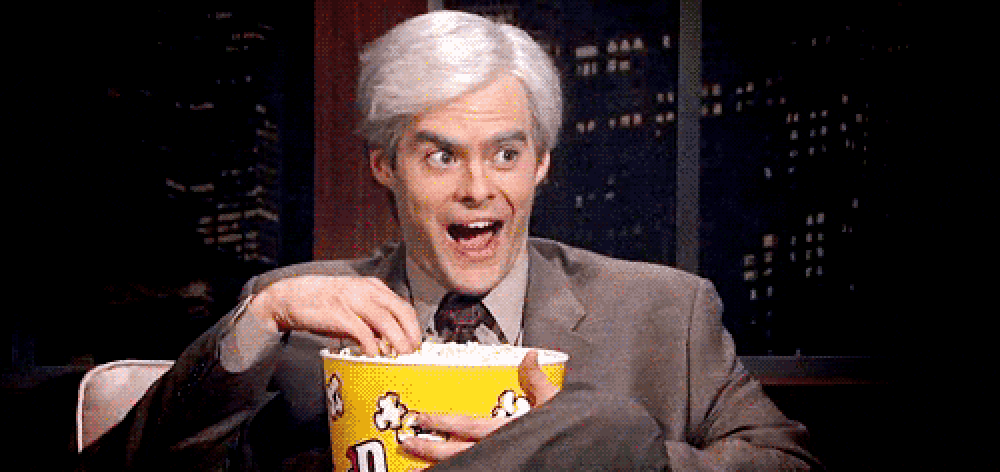 The answer really depends on what's best for you and your audience. If your session is more like a broadcast and doesn't focus on two-way conversations, then a pre-record makes sense. 
It can help your presenter deliver their session to the best possible standard with multiple takes and edits to give it extra polish. It also allows for extra flexibility if you're trying to snag an in-demand speaker.
However, if your keynote is topical or involves attendee interaction throughout, then a live presentation is ideal.
Often organisers will go for the best of both worlds and feature pre-recorded keynote presentations with a seamless switch to live questions.
2. Camera Streams
Nothing quite delivers the impact of an inspiring keynote as seeing the presenter in full flow. Virtual event attendees have a guaranteed VIP seat for camera streaming sessions, so it makes sense to include this content if you can.
There are three ways to record your presenters, each with their own opportunities and challenges:
Professional Videographer
For the highest quality video stream, this is by far the best option. A videographer will also capture the video with the best lighting and audio equipment, giving your keynote a premium finish. Coordinating diaries and budgets can sometimes be a challenge, but for big events, this should be your first choice.
Remote Camera Kit
This is a great option to achieve a high-quality video stream, along with professional live editing and vision mixing. Working with a virtual event provider that offers remote kits means they'll ship out an easy-to-set-up kit and then manage the filming and streaming remotely. This is a great option that marries quality video with a flexible approach to scheduling and costs.
Webcam
The easiest and most budget-friendly option, a webcam is a great way for a presenter to connect with their audience. Bear in mind, that this approach is more DIY and comes with a few other considerations:
Lighting can be a major issue here, so ideally the speaker should face a window.

There are loads of inexpensive but effective microphones available – just be aware of unexpected background noise.

Stream quality from a webcam will be lower compared with the two camera options above, but a wired Internet connection will help a little.
Find out how to set up your webcam effectively ahead of your upcoming event.
3. Slides
Slide-based sessions – also known as webinars – are one of the most common and effective ways to run an online presentation. It's a great format, using visuals and text to make your message stick. Camera-shy presenters often favour webinars so that they can focus on their story, rather than their nerves.
However, with slides as the main visual focus, you'll need to follow a few golden rules to make sure they're engaging. 
Luckily for you, we wrote an eBook on that very topic. Here are the webinar design guidelines in brief; view the full Webinar Design Guide, here.
Colour and contrast

Video

Data visualisation

Custom photography

Unique framing

Clear examples

Title slides

Sponsors and partners

Effective wrap-up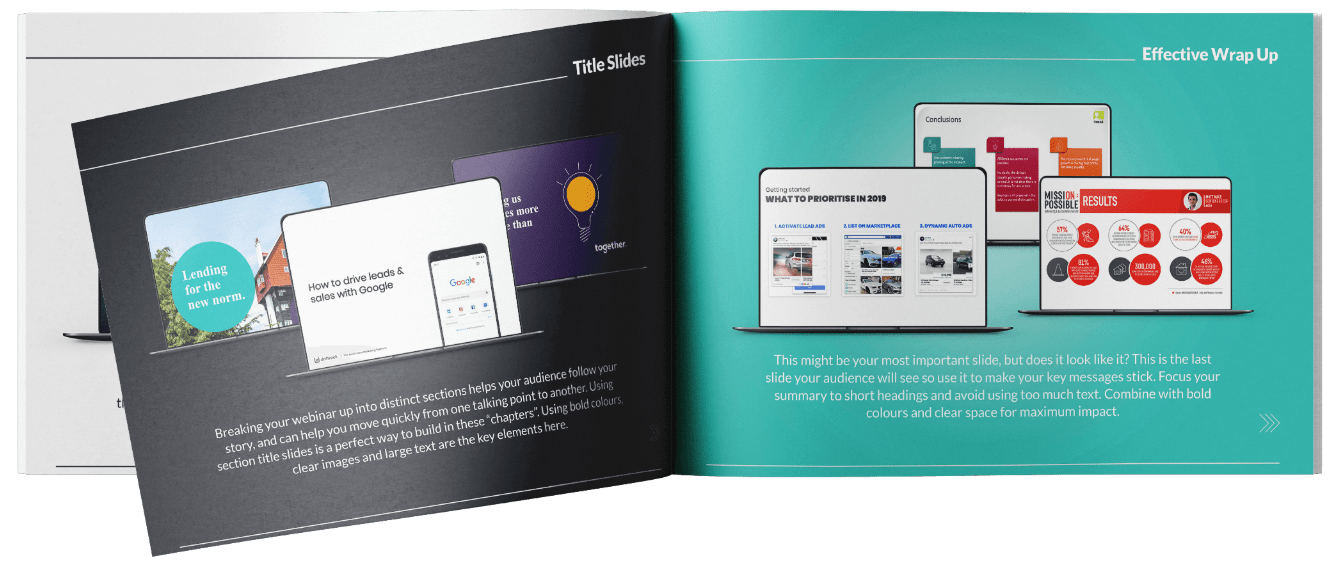 4. Breakout Sessions
Some of the most valuable takeaways from a physical event come from group sessions like workshops or roundtable discussions. Being able to bounce ideas off other attendees is a great way to learn and make long-lasting professional connections.
These discussions also allow the session leader to identify attendees who may need or want a follow-up conversation after the event. This could be from a sales perspective or to get more input from them on the topic.
Breakout sessions can be just as effective for a virtual event, but may require some extra thought to ensure that everyone can contribute effectively. 
Limiting these virtual sessions to around 10 attendees is a good start, and making sure everyone has a good audio connection will help them go smoothly. 
There are a number of ways these sessions can be delivered: a group video conference, an audio-only VOIP call with visual content for reference, or a text-only session using Q&A, polls and/or live chat features.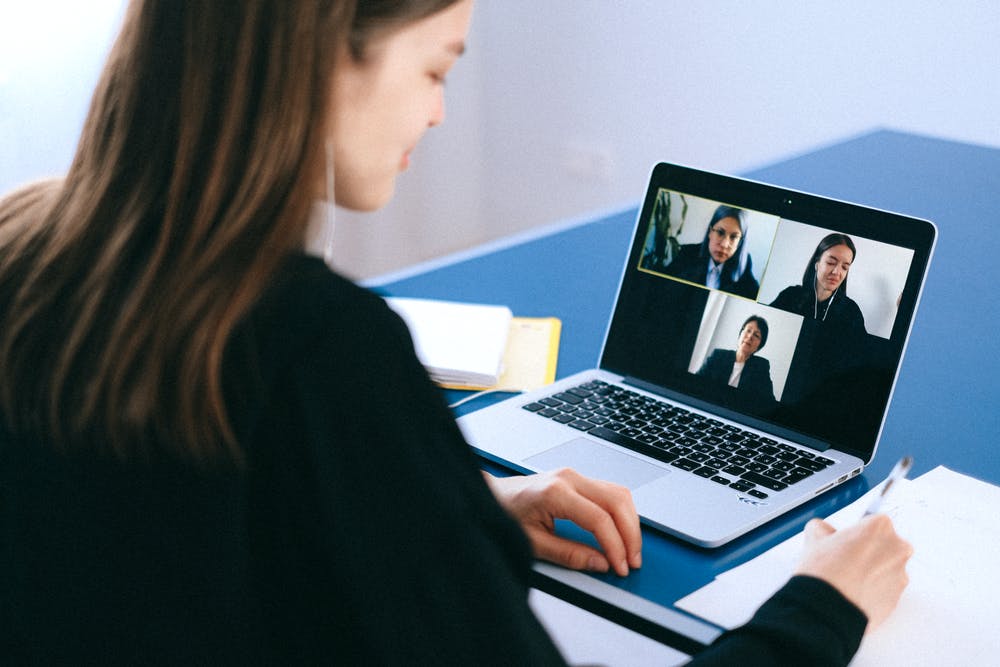 5. Poster Sessions
If your virtual event will include research presentations, poster sessions work well in an online environment.
The researcher can display their poster on the page and clearly present their findings back to the audience. Two-way audio and video connections make it easy to field questions on the research and provide further explanations if needed.
Your virtual event could reserve an event page for several poster sessions scheduled back-to-back throughout the event. Or you could run poster sessions at the same time for attendees to dip in and out of.
6. Show Reels
You want your attendees to come away from your event with the best possible impression of your brand. Virtual events, then, are a perfect place to showcase your existing video content. 
It could be a promotional video from your social channels, an explainer video from your homepage, or even a couple of customer testimonials. All of these have a happy home at your virtual event.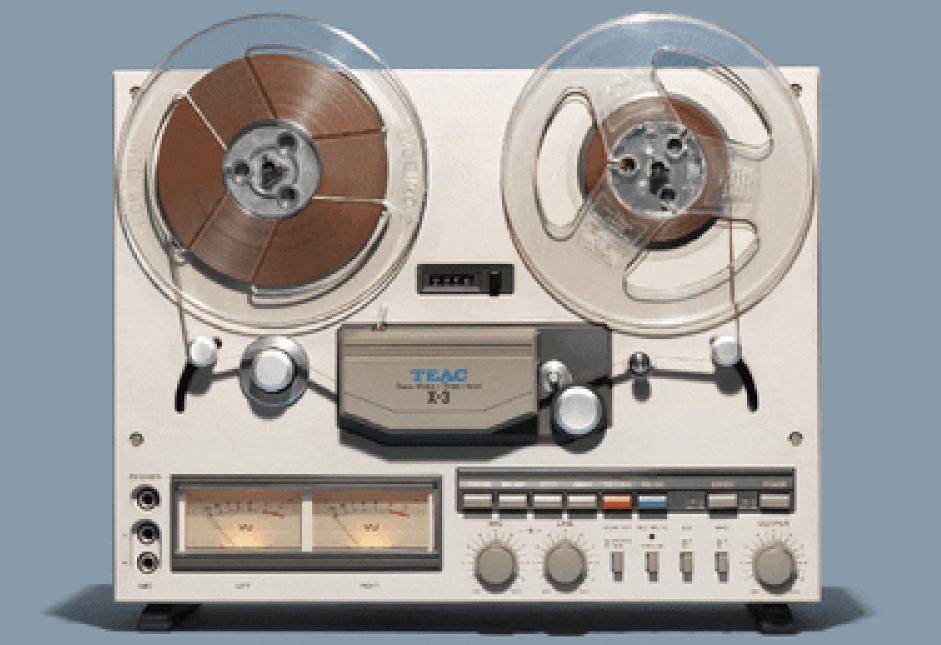 You could run them directly before and after your sessions, or host them in a resources section of your event for attendees to watch.
As the saying goes: if you've got it, flaunt it.
7. Podcasts
Over a two-year period, the number of podcasts jumped from around 500,000 to over 1m, and their popularity shows no signs of slowing. People asking for podcast recommendations is a common question and podcast discovery hasn't really been cracked yet. 
By hosting your podcast series within your virtual event (either embedded or linked to), you'll not only provide attendees with interesting content, you'll also have a great opportunity to grow your regular audience.
"As of April 2020, there are over 30 million Podcast" (iTunes)
Here are a couple of tactics you could try:
Promote your virtual event on your podcast to boost registrations.

Host bonus episodes exclusively for virtual event attendees. These could be Q&A interviews with keynote speakers or a panel discussion on one of the sessions.

Turn your sessions into podcast episodes. If your event's sessions don't rely heavily on video or slides, you could take the audio from those sessions and quickly produce new episodes for your podcast audience, with very little effort.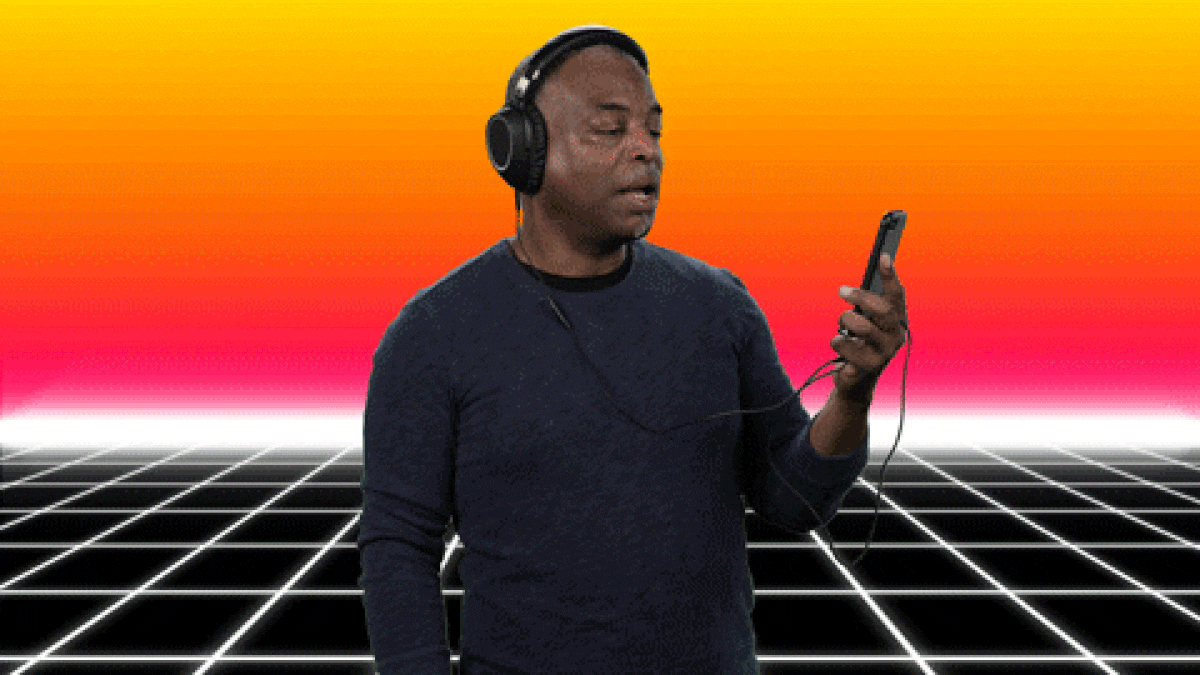 8. Downloadable Content
Giving away bonus information is yet another way to further enhance your brand reputation with attendees. 
Whether it's topic-led eBooks, product brochures or checklists, using your virtual event to host and promote your existing content is a win-win.
Other suitable content to give away could be any research or source material mentioned during your virtual event, giving attendees the chance to do some wider reading.
9. On-Demand Sessions
The success of most virtual events stems from your company and your attendees getting together on a set date(s) and at a particular time. Scheduled events create the urgency needed to make people commit to attending.
However, sometimes those who'd love to attend aren't able to for whatever reason.  But unlike physical events, virtual events provide the perfect solution for these would-be attendees: on-demand event sessions.
"On-demand content can increase the number of total registrations by 30%"
By making some or all of your content available on-demand, you provide value to even more of your target audience.
What's more, your on-demand content doesn't have to be available forever and risk diluting the urgency of your live virtual event. You could host it for a limited time, again bringing urgency into the mix for your promotional messages.
Quick Takeaways
You have a lot of choices, so make sure your virtual event provider can be flexible.

Often a mix of live and pre-recorded content strikes the right balance between driving urgency and maintaining your sanity.

Don't forget about your existing content. Your virtual event can be a second home for a lot of existing content on the same topic.
If you'd like to learn more about virtual events, download out our new eBook, 'How To Run A Virtual Event', for free or you can check out our page with more information about virtual events.
Inspired for your next online event?
See the streamGo platform in action!