Essential Internal Communication Tools For 2022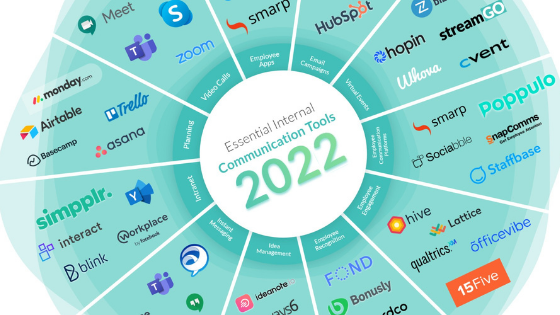 2022 has seen an explosion in the number of internal comms tools adopted by companies as workforces went remote almost overnight. And while tools can't fix a broken strategy or make sense of an unclear message, having the right ones in place is an essential part of the internal comms plan. 
In this blog and accompanying infographic, we have highlighted five of the most popular tools across eleven categories. The selections were made using data from sites such as G2 and Capterra and take into account thousands of customer reviews. Take a moment to review the graphic and start 2022 with the best tools on the market.
Employee Apps
Perfect for communicating to employees wherever they are. During a time of crisis mobile apps perhaps represent the quickest way to notify employees. With more of the workforce going and staying remote, employee apps are bound to continue to grow in popularity. As with other channels, it's important to be mindful of when the app should be used so as to provide a healthy work-life balance. Access anywhere doesn't have to mean access anytime.
Workvivo | Beekeeper | Smarp | Staffbase | Poppulo
Email Campaigns
No-one wants to get involved in a reply-all email scenario, but yet we all have. As well as easily handling list email campaigns, using a dedicated email campaign tool can help internal comms teams segment their audience to provide a more personalised message. These tools also come with a range of reports that can be used to help find the right subject line and timing to boost engagement.
HubSpot | ActiveCampaign | Mailchimp | Bananatag | ContactMonkey
Virtual Events
Companies have turned to virtual events as 2022 laid waste to all-hands meetings, town halls, and more. By taking these mass-employee events online, companies have been able to reach even more of their workforce – especially in global organisations. Tools that offer live polls, questions, on-demand access, and can provide engagement analytics can really help make the transition to virtual events smoother for internal comms teams.
streamGo | Hopin | Cvent | Whova | Bizzabo
Employee Communication Platforms
These platforms usually feature a whole range of tools and can help internal communications teams keep a lot of their plans and activities in one system. From emails to intranet posts these platforms can be really powerful to help effective internal communications
Smarp | Staffbase | SnapComms | Poppulo | Sociabble
Employee Engagement
Employee engagement software can be a vital part of the internal communications team's toolkit. When used well, the feedback gathered can be used to make an impactful change at the business. These tools can be used to gauge the general mood of a workforce and provide insight into employee engagement and experience.
15Five | Lattice | Hive | Officevibe | Qualtrics
Employee Recognition
Perhaps an area that had the potential to be overlooked as employees went remote, was how to replace an over-the-desk "thank you" or "well done". Integrating an employee recognition tool is one way to make sure this positive culture doesn't disappear. Recognition from peers, managers, and even external stakeholders can go a long way to reinforce employee engagement and these tools make this much easier.
Fond | Bonusly | Kudos | Hi5 | Awardco
Idea Management
Sometimes known as innovation management, software in this category aims to make it simple for businesses to collect ideas and feedback to help develop systems, products, and even their strategy. This information can come from employees, stakeholders, and customers, all with the aim to drive the business forward.
Sideways 6  | Brightidea | Qmarkets | Ideanote | IdeaScale
Instant Messaging
Having originally been a hit way back when with MSN Messenger (lol), instant messaging has been a staple of internal communication toolkits for a number of years now. Helping colleagues stay in touch quickly and asynchronously, or helping teams coordinate on projects are key uses of such tools (as is arranging after-work socials or fantasy football leagues).
Microsoft Teams | Slack | Google Chat | Workplace from Facebook | Cisco Jabber
Intranet
Once a place where comms would go to die, intranets have had a significant revival in recent years as workforces have become more and more spread across different locations and time zones. These platforms often encompass a number of different categories and integrate with a range of other internal communication tools to help make the employee experience consistent.
Yammer | Workplace by Facebook | Interact | Simpplr  | Blink
Planning
Although these tools may not be strictly internal communications focused, they can be crucial to the success of a plan or campaign. As well as helping internal communication teams coordinate campaign plans, planning software can also help collaboration and communication amongst other teams in the business. Having a shared planning space can be especially helpful for remote teams.
Asana | Airtable | Basecamp | Trello | monday.com | ProofHub
Video Calls
Literally, everyone and their gran, dog, cat, laundry pile have found themselves on video calls in 2022. With companies continuing to encourage remote working, it seems likely that video calls are set to be part of internal communications until the mass roll-out of teleportation. Whether you're a waver, an on muter, or a background changer, having a consistent tool across the company will make it easier for employees to become comfortable with this two-way comms channel.
Zoom | Skype | Microsoft Teams | Google Meet | GoToMeeting
By looking through this list you should have found some inspiration for tools to review, and while it's not exhaustive, this list highlights the most popular software across the eleven categories. 2022; here we come!
Inspired for your next online event?
See the streamGo platform in action!